What in the world is a jackfruit? Today we'll show you, and show you how it's used.
Have you ever heard of jackfruit? Most of us haven't, but you've probably seen it in the grocery store and wondered what it was. Jackfruit is the world's largest tropical fruit, and it's getting to be more and more popular as a meat substitute in vegetarian dishes.
Garden master Jim Duthie introduces us to the jackfruit, and he's joined by guest Chef Lou Aaron to show us some tasty ways to prepare it.
Welcome to "You Can Grow It," or maybe today we should be calling this "You Can't Grow It," because I'm going to show you an exotic tropical fruit that's not native to our area. It's the jackfruit, and it's grown in southeastern Asia.
Jackfruit is the biggest tree-borne fruit in the world, weighing up to 50 pounds. It looks like a giant watermelon, but with a prickly skin. As it ripens, it turns from green to brown and softens up. I'll cut one open to show you what it looks like. It's a bit sticky inside, so it helps to put a little vegetable oil on your knife to make cutting easier. Cut it lengthwise and pull it apart.
Inside the jackfruit you'll find a core down the middle and some very large seeds.
Those big seeds can be cooked and eaten. You can see the fruit in clusters like an orange, with a texture much like a pineapple or mango.
It's very sweet, almost like a banana or pineapple taste.
This is the part this is used… it shreds like meat, and you can use it as a meat substitute.
Chef Lou Aaron from Westside Drive-in dropped in to show us how jackfruit can be used in some of our favorite recipes in place of meat, since it takes on the flavor of whatever we cook it with. Right now we're going to make some taquitos.
You know, I showed what jackfruit looks like, fresh jackfruit, and you were actually able to find some frozen jackfruit.
"Right. they make it already cleaned and ready to go in little packages, like 20 ounce packages, in the freezer section… a lot easier to deal with."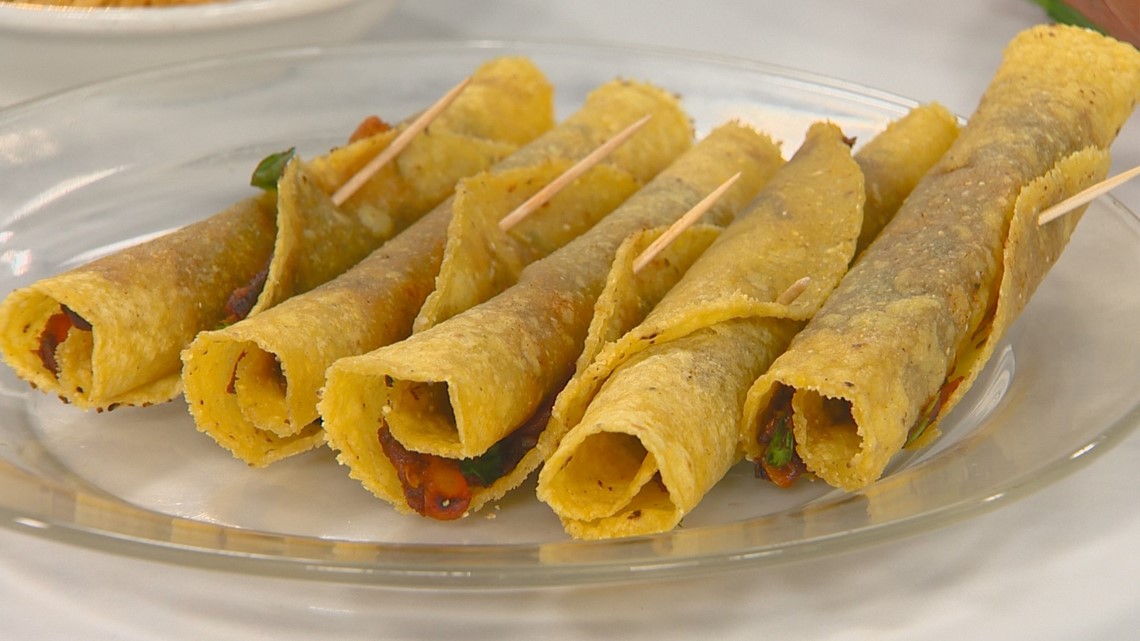 To start the taquitos, saute some chopped onion and garlic in hot oil.
"Jackfruit itself has a texture of pulled pork. So what we want to do is impart those pulled pork flavors into the jackfruit."
"So I'm kind of doing a mock pulled pork recipe here."
As the onions soften up, add the jackfruit, which will start to shred as it cooks.
Next comes your flavorings, including cumin, chili powder, paprika and lime juice.
"And then I have some fresh jalapeno."
"And it's all going to get really nice and tender."
Finally, a little salsa, and some chopped cilantro. Stir it all together and then let it cool.
Now we're ready to fill the tortillas, which have been softened in some hot oil to make them roll up easier.
Spread some filling filling on the tortillas, roll them up tightly and secure them with toothpicks, and then heat them for a minute or two to make them crispy.
Then serve hot with some salsa or avocado sauce on the side.
Tasting this, I can't tell the difference between jackfruit and meat.
"Nine times out of ten I'll bet people will eat this and think it's a pulled pork."
Jackfruit pulled pork taquitos, without the pork.
Now for something more traditional.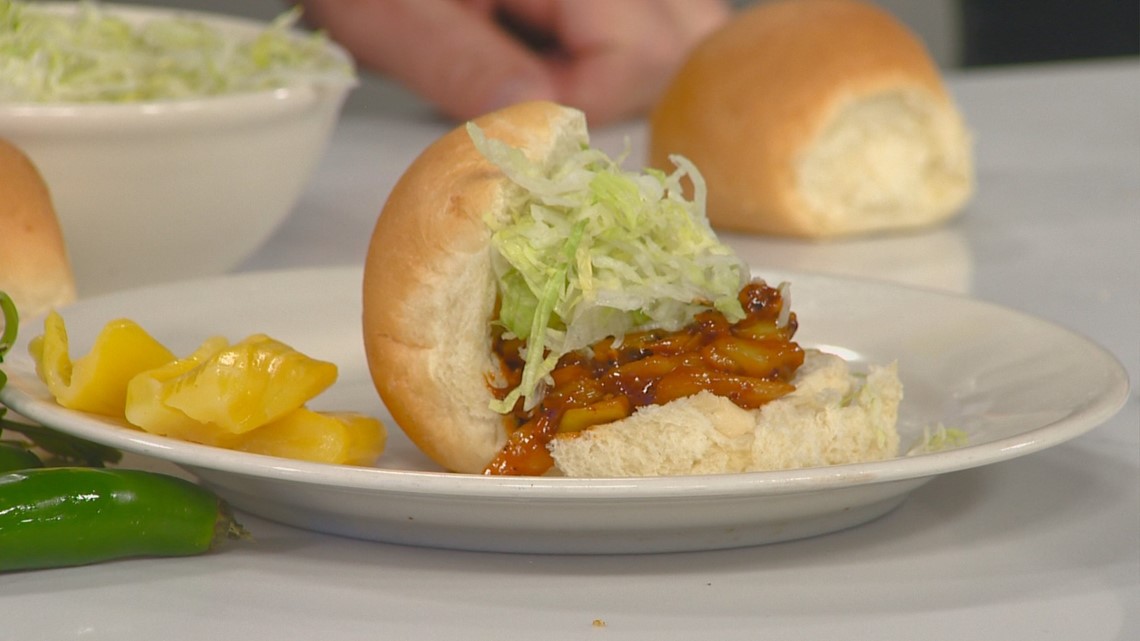 How about Kansas City barbecued jackfruit sliders?
This time, Lou julienned the jackfruit so it will cook faster, and heats it with chopped onion and garlic.
Traditional barbecued pork or beef is slow-cooked in a smoker, but we're going to cheat a little to get that smoky barbecue flavor.
"So we're going to cheat with liquid smoke. A very small amount goes a long way."
Absorbed all of the sauce, and it really is starting to look a lot like beef. It does, it does."
"So you get you're little slider bun or roll, and pat it down a little bit."
Your hot jackfruit mix on the buns, top it with a little shredded lettuce, and there they are.
"There we have our BBQ jackfruit sliders."
"I can't tell the difference. No, just like shredded beef."
There you have it. Jackfruit… give it a try sometime.
You can find whole fresh jackfruit in some larger supermarkets and asian markets. but it can be expensive. most whole fruits weigh 15 to 30 pounds, at a cost of around two-dollars per pound. So canned or frozen might be your best option.
Here are Chef Lou's jackfruit recipes:
Chef Lou's Jackfruit Taquitos
2 tbsp oil, plus more for brushing
1 small jalapeño, seeded and diced
1 (20 ounce) can jackfruit, drained and patted dry
1/4 cup salsa, homemade or storebought
2 tbsp fresh cilantro, minced
In a skillet, heat oil over medium heat. Add onions and garlic and sauté until onions are translucent(about 3 minutes).
Add jalapeños, jackfruit, spices, and salt, stirring to evenly coat the jackfruit. Cook, over medium heat, until jackfruit begins to brown slightly around the edges, about 5 more minutes.
Remove from heat and stir in cilantro, salsa, and fresh lime juice. Set aside.
Prepare your tortillas. In another pan, heat oil. Lightly fry tortillas for about 10 seconds each side until pliable. Do not overcook or they won't be able to be rolled(you'll have chips).
Place about 2 tablespoons of jackfruit filling along the bottom third of the tortilla. Tightly wrap the tortillas, push a toothpick through the middle, and place them seam-side down on a pan. Repeat until all the filling is gone.
Heat oil in a skillet. Fry taquitos turning every 30 seconds until brown and crisp. Cool slightly before serving. Serve with your favorite salsa or guacamole.
Chef Lou's BBQ Jackfruit Sliders
1 small yellow onion, diced
1 tablespoon garlic, minced
6 oz jackfruit(frozen, thawed)
6 slider buns, or dinner rolls
shredded lettuce, optional as needed
In a medium saucepan, heat the oil over medium heat. Once the oil is hot, add the onion and cook for 2-3 minutes, until translucent.
Add the garlic, salt, and pepper, and cook for 1-2 minutes. Add the jackfruit, chili powder, paprika, cumin, and liquid smoke, and mix well. Add the vegetable broth, cover, and cook for 5-8 minutes, until liquid has reduced and it has cooked down.
Use a knife to cut the slider buns in half. Remove the top and set aside. Spread the BBQ jackfruit on the bottom half of the buns, then top with shredded lettuce.
Add the top buns and enjoy!