WILDER, Idaho — When you think of Idaho, the first crop that comes to mind is probably potatoes.
But the Gem State is also making a name for itself in the wine industry.
A vineyard in the Snake River Valley is doing something completely different in an effort to produce a gold standard of wine.
In Wilder, Mindy Mayer runs Kerry Hill Winery a little differently than the other vineyards in Idaho.
She uses sheep to help get the most out of her crop.
"About 10 o'clock in the morning we are letting the sheep out of their pasture here at the vineyard and it's just amazing," Mayer said. "We open up the gates and I have two border collies that help me direct me direct them which rows they're going to go in and they charge down there."
According to the Idaho Wine Commission, she's the only vineyard owner to do this in the entire Gem State.
"Owning a vineyard is very labor-intensive, and this can really save a lot by using the sheep to do some of the chores that is needed," Mayer said. "When I have the manual labor here at my vineyard, it can run from $5,000 to $12,000 dollars a week."
One of the biggest tasks is thinning the leaves on grapevines, which can shield the grapes from the sunshine they need to ripen, or collect mildew that can crop of grapes.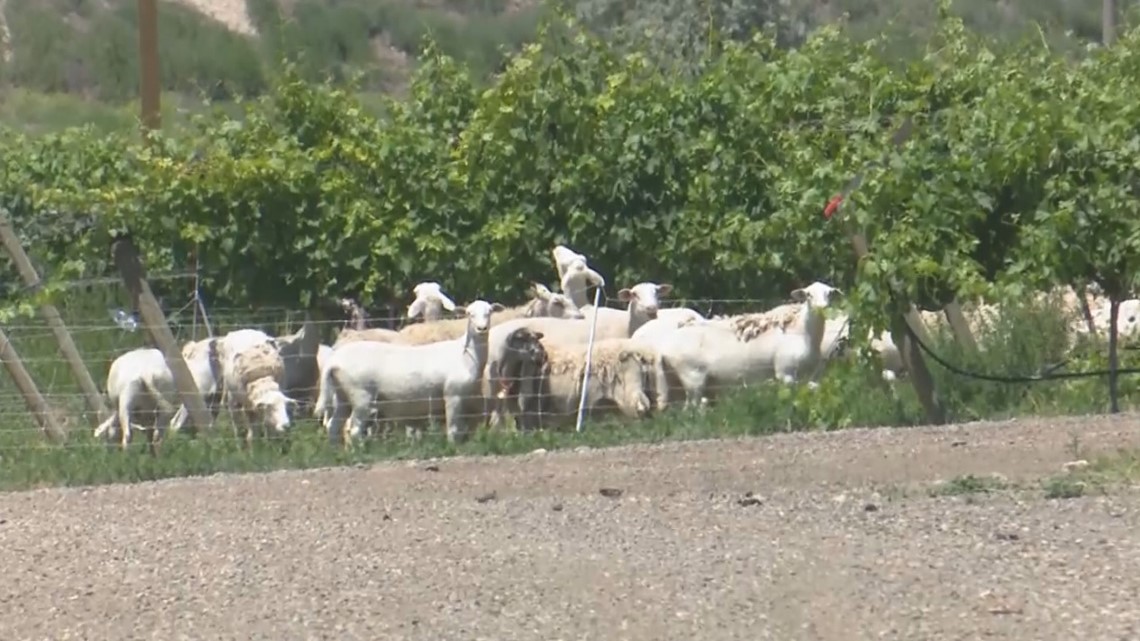 This year's extra-wet spring has really accelerated the growth of those leaves.
That's where the sheep come in. Sheep also fertilize the soil with what Mayer calls "golden pellets."
"They're actually pretty brown, but there's a lot of nutrients in those and a lot of fertilizer," she said. "They're great."
The breed, known as Kerry Hill Sheep, influenced the name of the winery. They can be found only in Ireland, Northern Ireland and England - and now Wilder, Mayer said.
Her flock is still young and flighty, so she's still waiting to train them with the dogs, relying for now on a borrowed flock of Katahdin sheep instead.
"I hope so next year to do it, that they will be out there doing the same work," Mayer said. "The dogs enjoy having a task to take them down there and the sheep are in sheep heaven, shall we say, enjoying those gourmet grapes."