BOISE - On the same floor where two weeks before saw the spectacle known as the NCAA Men's Basketball Tournament, Taco Bell Arena hosted another varsity sport. This one, however, was more inclined toward the mind.
"So, this is our March Madness," said Lisa Lallis-Skogsberg, regional planning chair for the FIRST Robotics Competition.
In the middle of this metropolis of machines is Team Tators, one of the first robotics teams in the Treasure Valley and one of 39 teams trying to get to the championships.
"This is the regional robotics competition for FIRST," Lallis-Skogsberg explained.
FIRST - an acronym for "For Inspiration and Recognition in Science and Technology" - is a nonprofit that puts on these regional robot contests for high school kids.
One of those kids is Alex Mikhalev, a member of Team Tators for the last five years and a senior at Timberline High School.
"And of course, I had no idea how to build a robot like this when I started," Alex said. "And now I have a bit of an idea, at least."
A "bit of an idea" is a bit of an understatement. Team Tators has gone to the championships in Houston eight of the last 12 years.
"So, I think people underestimate us less, I'd say," Alex admitted.
Their best finish was last year when they won their division and placed third in the toughest final field.
"We can be better, absolutely," said Mark Whibbles, an HP engineer and team mentor.
Whibbles has helped guide them, going nearly non-stop from when they were given game and guidelines in early January to a fully-functional robot of more than 1,000 pieces in just six weeks.
"It's exciting and that excitement never quits for any of us really," he said. "We build things we've never built before. That's cool."
FIRST Robotics Idaho Regional Competition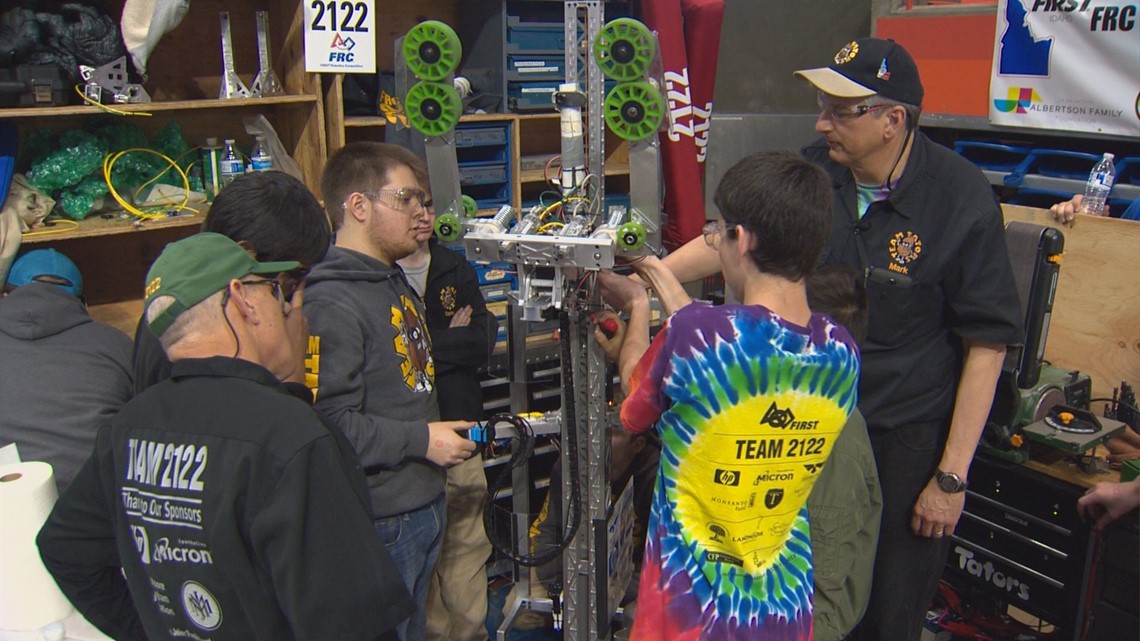 Out on the field, The Levi-tator, as their robot is called, is driven by Mitch Messerly.
Managing nerves is also part of "practice improving performance." The premise this year is an 8-bit 80s-style video game in which milk crates are moved around the arena in two-and-a-half minutes for points. However, chewing through the competition here isn't as important as what it will take to win in Houston.
"Now, we're going to get our robot off the field, pump up, and go again," says Mitch, after the first practice round.
It's the moving-forward mentality that keeps Team Tators at the top of their game, and helped them take home the win at Boise State last weekend.
Now they have their eyes set on the championship rounds in Houston, coming up in a couple weeks.