BOISE, Idaho — Where a few go with gravestones, others with witches, and some take a shine to skeletons, there's a house on the Boise Bench where Halloween decorations tend toward, well, you could say childlike.
"Dolls," says Amy Pence-Brown.
"No," laughs Amy. "Zombified baby dolls."
Amy and her family have put their own peculiar spin to the haunting holiday for about four years.
"There's this little bottle that has like red paint in it," explains Amy's daughter, Alice, who is holding a headless plastic doll. "And then we're going to squirt it and it's going to look like it has blood on it."
Modifying the mini mannequins, in a crude form of plastic surgery, is just the beginning of what began with a doll-decorating idea devised by Amy's daughters.
"Yeah, me and my sister," admits Alice.
Now it's become a ghoulish gathering of kids and parents who want to turn old toys into tiny specters of terror.
"Well, it had a baby bottle but now it has a baby doll head to eat," laughs Heidi Gintz, who lives down the street.
Community camaraderie was kind of the point. Because before, Amy says, the Vista Neighborhood during Halloween wasn't happenin'.
"Our neighborhood, actually, didn't have that much going on on Halloween four years ago," says Amy. "People weren't really trick-or-treating, neighbors' houses are all dark. So we thought maybe we'll be the house that does the cool, big thing."
Their cool, big thing really starts to take shape the day before Halloween with Amy putting the Frankenstein-ed figures in their final resting place, so to speak.
"I think there are about 165," Amy guesses when asked how many dolls decorate her backyard.
She'll spend hours manipulating her nightmarish menagerie in a petrified playground.
"We have certain dolls that go in certain places," she says.
But every year they try to give a different experience for their gore-seeking guests, squeezing dozens and dozens of damaged and demented demons into 1,600 square feet of space.
Idaho Life: Toys of Terror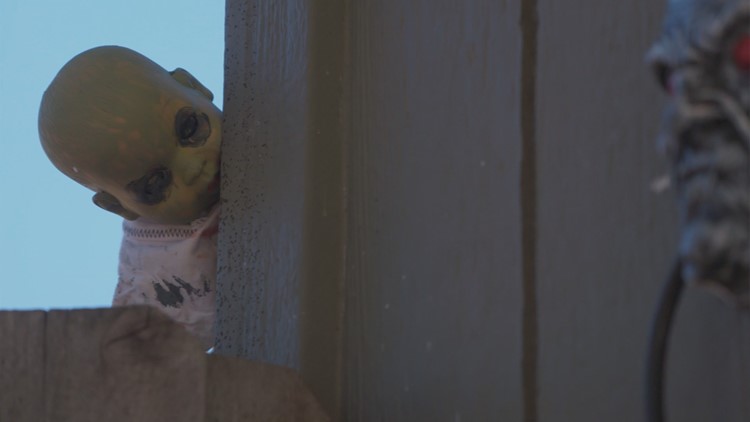 Whether hanging from trees, perching on rooftops, or vegetatively planted in a garden gone south, Amy knows these bone-chilling cherubs don't have to be perfectly positioned to be flawlessly frightening.
"Yes, they are creepy on their own without being mutilated or destroyed or painted," Amy admits. "Especially when you have them en masse looking at you."
Looking at you through the deadest of doll eyes.
"Yeah, for sure," Amy agrees. "For sure."
Note: Watch the 360 Idaho Life videos on mobile in the YouTube app for the complete immersive virtual reality experience