NAMPA, Idaho — At the College of Western Idaho a board of trustees monthly meeting is usually a test case in tedium.
"I'll go ahead and call this meeting to order," says Skip Smyser, chairman of the board.
But when the agenda compels attendees to include unicorn cupcakes it's likely to whip up a little more interest.
"It's been moved and seconded," the chairman continues. "The ayes have it, the motion has carried."
Interest is piqued because today they are suggesting the short list for a school mascot.
"We looked at everything across the board," says Mark Browning, VP of school relations, addressing the board from a small table.
After 10 years without some sort of symbol the board decided it was about time.
"For the chairman, I think he looked at it and said, 'We need something for students, staff, faculty, and community to kind of rally around,'" adds Browning, who is also a member of the work group tasked with narrowing the options.
Something on par with a Pistol Pete or a road runner, maybe a bobcat or a bear or a bulldog.
It's the kind of beastly branding absent from CWI's student bookstore.
"No animals in here," says student Omar Hernandez as he stocks shelves.
So after asking for suggestions and receiving more than 1,300 survey responses the committee thinned the herd down to three.
"They are the bighorns, the horned owls, and the otters," announces Browning.
Omitted, though, an option that goes back those pastries.
"There was discussion about the unofficial, um, Sparkles the Unicorn," continues Browning in front of the board members.
What about the unicorn, Sparkles? Yeah, that's the name of the college's unofficial mascot. And he, or she, has been around since before there were even students.
You see, back in 2008, when CWI began and took over Boise State University's Nampa campus there were a lot of Bronco logos left behind.
Associate professor of history, Reggie Jayne, adds more of the, well, history.
"And our vice president, Victor Watson, jokingly remarked, 'I'm going to get a bunch of horn stickers and put them on the Broncos and we'll be the Broncocorns,'" recalls Jayne.
That original idea spawned shrines to Sparkles. Soon stickers and drawings, and stuffed and rubber unicorns started showing up in cubicles and classrooms.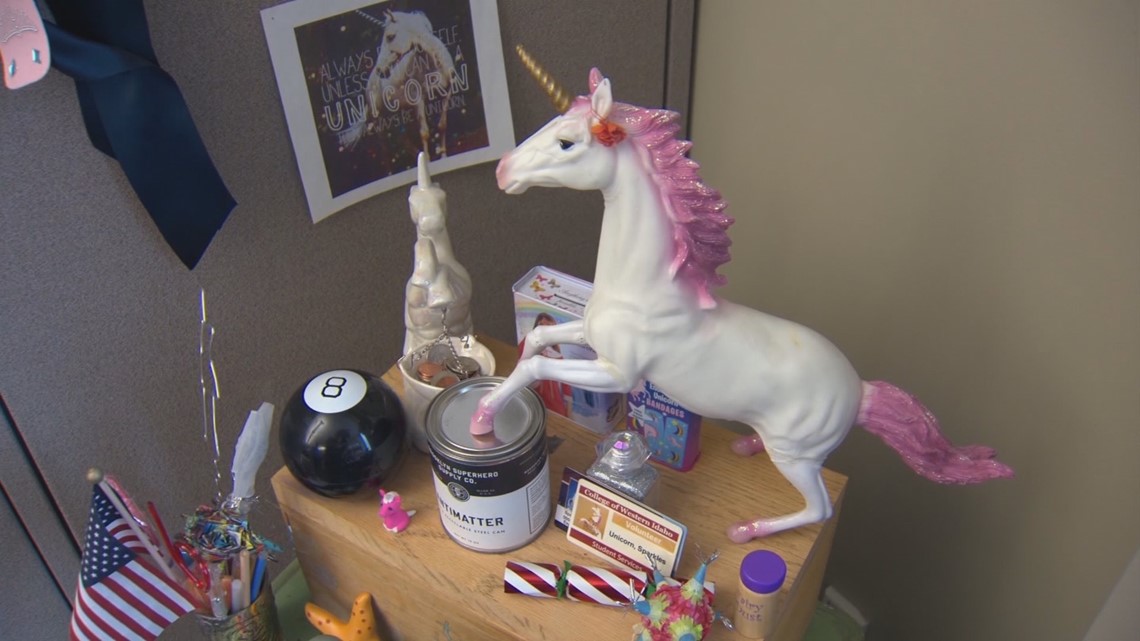 Then what started as a joke morphed into more of a state of mind for those trying to create a community college from the ground up.
"And it felt like we were out here in the wilderness trying to do something wild and crazy," says Christian Purvis-Aldrich, associate professor of English. "And a little magical."
That sentiment spread to the students, too. Specifically, the speech and debate team who turned Sparkles into their token almost immediately.
"This one's probably made it through about six national conventions," says former team coach Johnny Rowing, holding up a purple unicorn on a stick.
"We've always seen the unicorn as sort of an inspirational, mythical figure," Rowing continues. "That really denotes the kind of mythical performance we're having here."
Sparked by Sparkles, they've won back-to-back-to-back national titles and seven in the last 10 years.
So the spiral horn has some stature at CWI.
"And to not even have it as a choice on the ballot is frustrating," laments Rowing.
But no unicorn will be considered, which is a shame to some.
"It is," agrees Jayne. "It's a sparkly shame."
Now they will have learn to embrace, maybe, a bighorn.
"Bighorn?" asks Shaina Hilton, a fourth-year student hearing about the mascot decision for the first time. "We're 21st-century here, like, if we want to be a unicorn, we should be a unicorn, you know?"
The committee that came up with the finalists say they wanted a mascot that would represent western Idaho, and that didn't include a unicorn.
The board of trustees is expected to take up the decision on CWI's new mascot in their December meeting. And whether they go with bighorns, horned owls or otters, you can bet Sparkles the Unicorn will still be part of the school somehow.
Note: Watch the 360 Idaho Life videos on mobile in the YouTube app for the complete immersive virtual reality experience.