BOISE, Idaho — Southeast of Boise, surrounded by high desert sage brush, there's not a whole lot happening out here, other than what you hear coming from the Blacks Creek shooting range.
"The range is now hot, the range is now hot," range officer, Curtis Eggleston announces to those gathered to practice shooting.
But there is one other thing happening out here that even some of these shooters can't quite set their sights on.
"I don't know," says Ken Kope, who's been coming to Blacks Creek for 15 years. "It's just one of those unsolved mysteries."
Most of them have seen it.
"Yes, yes," Curtis agrees. "People have asked me, 'What's the story with all the shoes?'"
But no one can explain it.
"UFO?" Ken offers, with a laugh. "Who knows?"
On the ridge above the range there's a different sort of shooting, so to speak.
Along a straight stretch of Kuna Mora Road you start to see them. A high heel here, a bottoms-up boot there.
But before you know it you're rolling right along side thousands of feet, of what used to be on somebody's feet, now affixed to the top of fence posts.
And there's all kinds in this collection.
"There are galoshes, I saw some tennis shoes," says Ken. "Some work boots."
From women's "club" shoes to kids shoes.
"Kids shoes, yeah, small shoes, big shoes, boots, yeah," agrees area resident Brett Terning.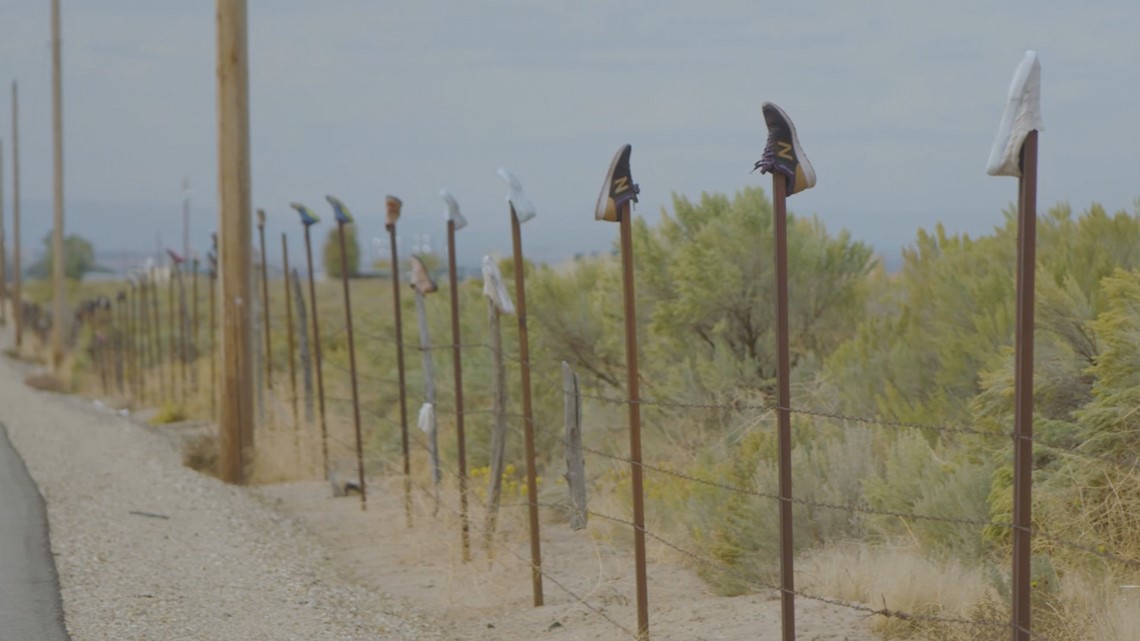 Those familiar with the flock of footwear say it formed from just a few.
"But there's more, there seems to be more and more every time I come out," says Curtis, with a shrug. "And where they come from, I have no idea."
Curtis isn't the only one kind of curious.
The land in this area is a mix of private and public property. Idaho's Department of Fish and Game, which operates some of it, says they're aware of the shoes. They just don't know why they're here.
And the gentleman that owns one parcel of land with fence posts flocked with shoes says it's been in his family for generations. The shoes have been showing up for decades. He's just never known why.
Neither do the nearby neighbors.
Brett has lived off Kuna Mora Road for almost a decade. He also has no idea.
"High school prank?" he suggests.
It seems nobody could tell us why the sneakers, slip-ons, and the rest of the abandoned soles are staked south of Boise.
"Could be, you know...or they...or they're..." Ken says, struggling to come up with a reason.
The most likely explanation comes from Brett.
"People do crazy stuff," he says.
And apparently, for no apparent reason.
"Yes, for no apparent reason," Brett agrees. "It's what gives the country character, I guess."
"I don't know what it means," adds Curtis. "I have no idea what it means."
As of now, the shoes remain one of those unsolved mysteries. One of the landowners tells us he has removed the shoes from time to time but they have always returned.