FRUITLAND, Idaho — In a modest house in Fruitland, Trudy Haines makes a final, formal inspection of her husband, Jerry.
"Just so that he presents the sharpest image he can of a military man," Trudy explains.
Forty years removed from his time in the Army National Guard, where he spent 25 years as part of the U.S. Air Defense Program, Jerry's connection to country is no surprise.
In fact, the Haines' hail from a long line of military men, proven with family photos that go as far back as the Civil War.
"That's my great-grandfather here," Jerry says, as he points to an old picture of a man in uniform.
Which is why, on an mid-fall, mid-afternoon, Jerry steps out in full dress uniform to fulfill another mission. For the last five years he has helped Heart 'n Home Hospice with a special assignment.
They call them pinning ceremonies and today that task takes the 83 year-old to Ontario, Oregon - to the home of Raymond Heck who, 76 years ago volunteered to fight in World War II.
"I was a radio operator on a B-24," recalls Raymond.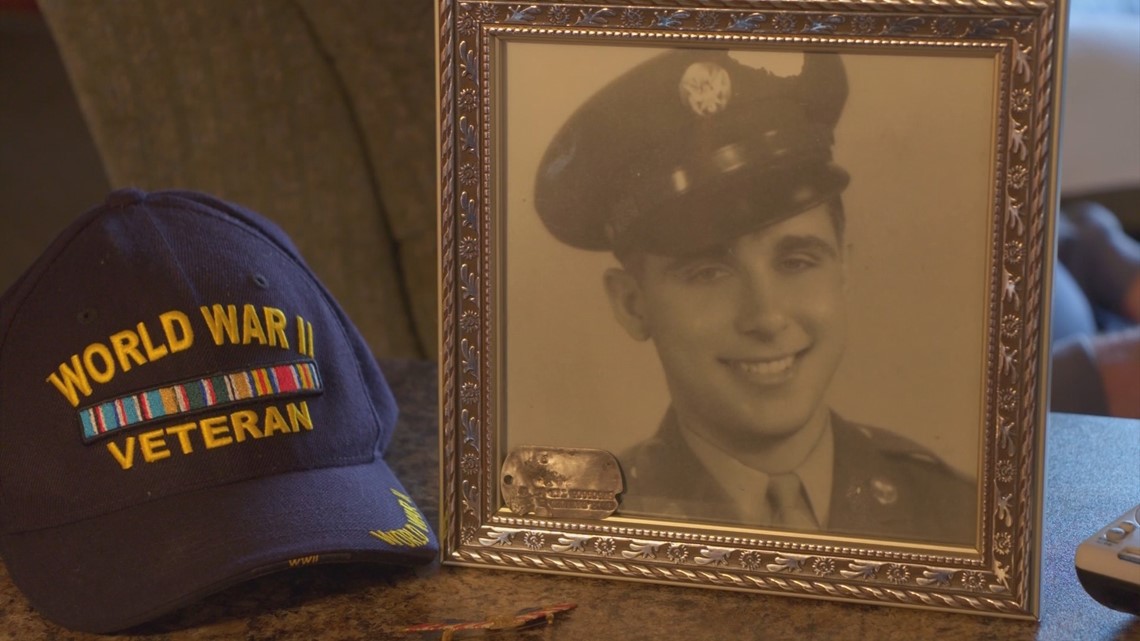 Now at the age of 96, Raymond's fighting his own heart, a battle that's taking its toll nearly every day.
"What was the year you got in?" Jerry asks Raymond.
"'43," the old soldier responds.
It's a similar situation Jerry has found himself in more than two dozen times before.
"Whether they peeled potatoes or were in combat they're still a veteran," Jerry says. "And they deserve honor of their country because they raised their hand to serve their country."
So, following a prayer and a poem the retired Army Major places a pin on Raymond's shirt to commemorate a commitment that is often no more than a faint memory.
"There you go," Jerry says as he straightens up. "And I salute you because this is your day and I thank you for your service."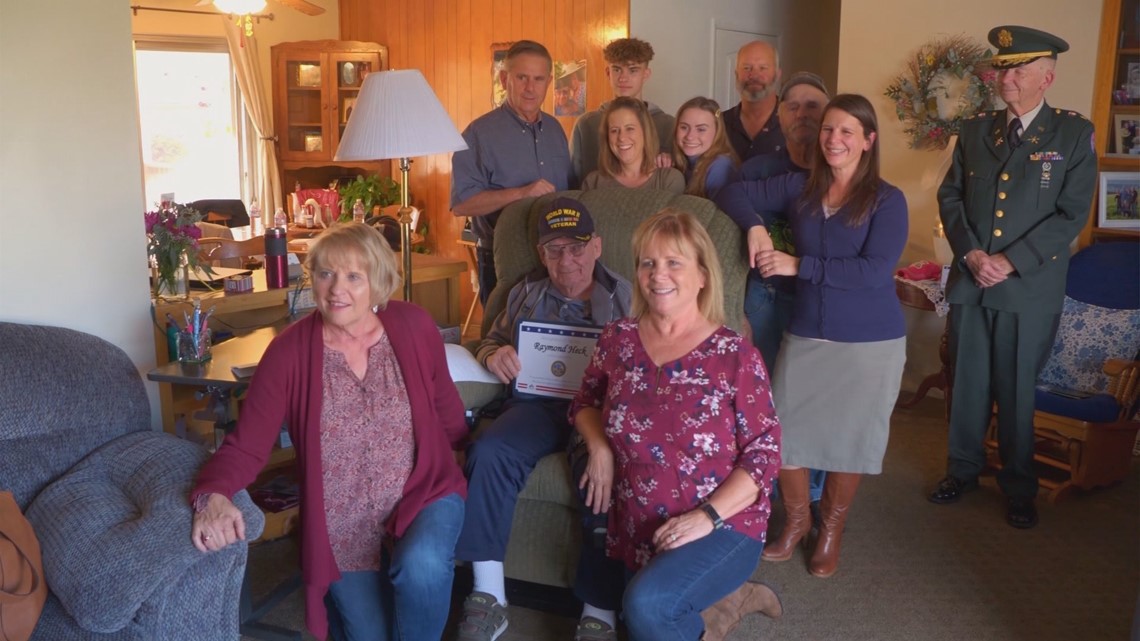 "It's a big deal," says Sharla Phelps, who has driven Jerry to almost all of these pinning ceremonies. "Even if they say it's not a big deal, it's a big deal."
It's a gesture of gratitude with a little more weight.
"I feel like there's a lot of pain at end of life, spiritual and emotional pain," says Sharla, who works with Heart 'n Home Hospice. "And sometimes these guys have never been thanked for what they did."
And sometimes the gratitude goes both ways.
"Well, I guess I should say something, I don't know," Raymond says. "It's a wonderful family, I'm proud of all of 'em, you've all been good. I just wish your mother was here to be with us."
Raymond lost his wife of 72 years just last January.
The pinning is a short ceremony but Jerry knows as he leaves, the sentiment will linger for a vet's legacy.
"Dad loves his family so, yeah, having everybody around is a big deal for him," says Raymond's daughter, Tammy Burt. "I think it's wonderful. I think it's very important because they're the reason that we have our freedom."
"Well, I think I'm giving them something," Jerry says as he walks to the car.
Last week Jerry and his wife were in Orlando, Florida to receive a national award from the National Hospice and Palliative Care Organization.
He was one of four recipients of this year's Volunteers Are The Foundation of Hospice awards.
Note: Watch the 360 Idaho Life videos on mobile in the YouTube app for the complete immersive virtual reality experience.