BOISE, Idaho — Below is the original Idaho Life that aired on April 6, 2016. Scroll down for the 208 Redial update on Biagio Adornetto.
BOISE -- If you look around, and up, downtown it's not hard to see the City of Trees is sprouting. Construction is adding to already millions of square feet of office and retail space.
While those new places will certainly offer several amenities, like location or maybe a view, there is one local businessman who made his own workspace in a place where many businesses start. A garage.
According to those who keep track of such things, there are more than 300 businesses in the downtown area occupying nearly 600 million square feet of supreme, sometimes sprawling, sometimes scenic, real estate. But sometimes all you need is about 400 square feet with low overhead. And a lot overhead.
You've probably passed it as you pulled in, or out, of the Capitol Terrace Parking Garage. However, it usually goes unseen. Well, beyond the rarely noticed neon is the barber, Biagio Adornetto.
But his business is not just a barbershop. It's also a boutique, offering shirts and shoes along with a shave.
The Underground Men's Boutique and Showroom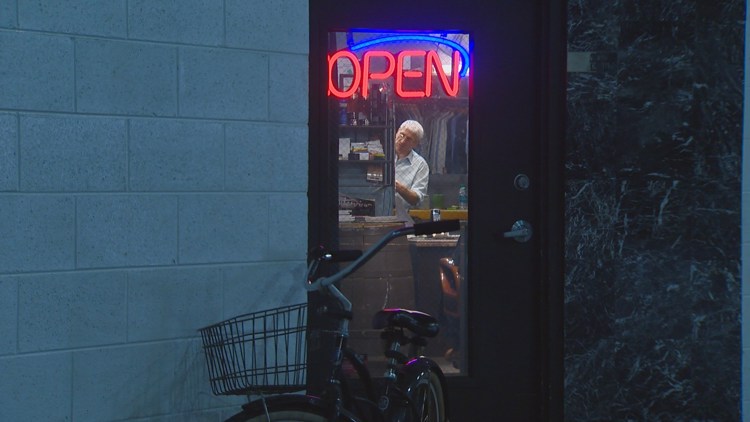 Andornetto works six days a week and he works fast, because his clients aren't usually ones to waste time.
"One chair, one guy, no riff raff," said Gavin Phillips, Adornetto's client of eight years.
And there are no walk ins, or drive-ins, given where it is. Despite the the clandestine location Adornetto's client list is long.
"See all those cards he has?" said Phillips, motioning to the collection near the mirror. "Those are mostly his clients."
That's because Adornetto considers most of his clients his friends, and they treat each other as such, giving grief for the presence of a TV crew.
"What's going on? What, you a movie star now?" remarked another client.
"No, you gonna be on TV," laughed Adornetto.
As the accent alludes Adornetto was born in Sicily, where he cliff-dived in the Mediterranean and where his family owned an orange orchard.
However, Adornetto wasn't cut out for farming. "I wanna keep my hands clean," said Adornetto.
So he hung out in the local barbershop and found a flair for hair.
He found his way to Idaho in 1994 then 10 years later he found this stretch of space that was once a storage room.
"So, nothing was over here, no window," explained Adornetto. "Just cages."
His vision and own hands converted a former closet into a career. The hardest part was convincing the landlord.
"'Well, what are you gonna do? Barbershop.'" recalled Adornetto. "'Inside the garage? Yeah. Hhmmm.'"
And he hasn't looked back or seen the sun from his shop since.
"Oh, I don't know if it's raining or snowing, nothing."
That close-quartered intimacy is just fine for his customers.
"I haven't had a bad haircut in eight years," said Phillips.
Perfect PR for for a tonsorial shop tucked in a corner, under tons of concrete.
APRIL 2020
We caught up with Biagio Adornetto during Idaho's mandatory stay-at-home order.
With his shop closed indefinitely, he says he's been keeping somewhat busy.
"You know, cleaning, fixing a few things but I need my clients to come back and I need to start working because I don't know how long it's gonna stay like that," Adornetto said.
He added that he is very much looking forward to when he can reopen his shop and see his clients again.
"What am I supposed to do, go around, I'm starting to get crazy."