BANKS, Idaho — One of the most exciting outdoor adventures to have in Idaho is river rafting.
On Wednesday, a Caldwell community partnership brought more than 100 kids to the Payette River to experience it for the first time.
"I love taking people down for their first time on the river," said Ashley Hollister, a guide with Cascade Raft and Kayak.
She had a raft full of newbies, and said the stretch of river was perfect for them.
"So this is our main Payette section, class 2 and 3 rapids," Hollister explained. "After each rapid we have flat water for people to hangout and swim in. It's super fun."
Although just a handful of kids were on Hollister's raft, there were about 110 kids from Caldwell taking part in the "2C Youth Raft Along."
"It was fun and scary at the same time and so I went in the front [of the raft] instead of the back," said 11-year-old McKenzie Rogers.
A.K. Whittaker with the YMCA says she wanted to help put on this adventure for kids who otherwise wouldn't get the opportunity.
"So here we are out in nature, away from mom and dad, away from the school scene, with kids they've never been around before, and amazing role models in the community," Whittaker said.
Caldwell police chief Frank Wyant was there too.
"It's just so fun to come out here and watch the kids," Wyant said. "Encourage them, laugh, joke with each other, pull each other into the water."
YMCA program lets kids raft the Payette River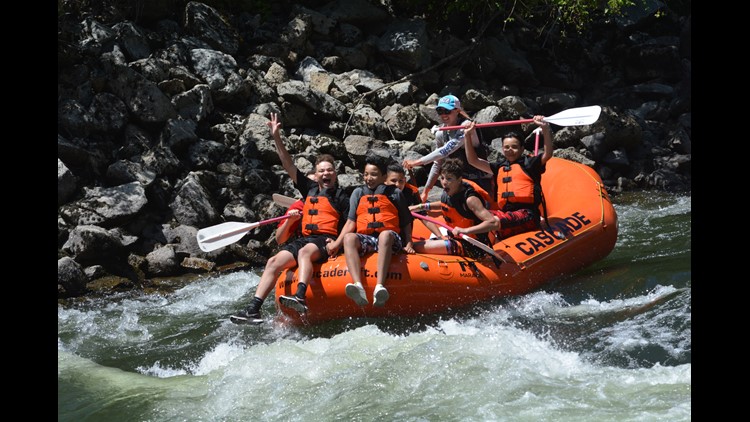 The diverse group of kids were mostly middle school students.
"Those are the most formative years, you know kids are entering adolescence, they're really developing their personality, their sense of independence, they're learning how to be friends and make friends and kinda who they are inside," Whittaker said.
Those who took part in the trip say it was a great way to spend a summer day.
"It was pretty nice to meet new people and not sit at home on the couch," Xavier Arteaga said. "It as adrenaline rushing and sometimes it would be scary and sometimes it would just be calm and fun. It was a good experience."
The "2C Youth Raft Along" was a collaboration of the Caldwell Police Department, Canyon County Ambulance, Caldwell YMCA, Bestbath, Caldwell Transportation, and other Canyon County organizers.
This was the second year for the adventure and is free for the kids.