BOISE, Idaho — When Vernal Forbes created his motorized Frankenstein monster in his Boise garage more than two decades ago, he could not have known that his invention would become one of the hottest trends in winter powersports.
Forbes came up with the idea for a hybrid snowmobile-dirt bike — a snowbike — back in 1993.
"I was really kind of frustrated with the snowmobiles, how difficult they were to turn and maneuver through the trees," Forbes said. "I wanted more agility, I wanted the ability to cut across these side hills, to slalom down through the timber and not have to worry about crashing into trees.
"And so that was the imagination that generated all this," he added.
The retired Hewlett-Packard engineer spent five years putting his ideas to paper, fine-tuning his invention.
"It was a mental exercise envisioning what I wanted," he said. "I spent a lot of time, first doing hand drawings with a pencil and a notebook, and then got to the point where I could use an old 2-D computer generated design program."

He eventually fabricated, by hand in his garage in Boise, the first prototype of the modern snowbike kit.
"Even before building the first prototype I applied for a patent," Forbes said. "And it was a pretty extensive patent. It had lots of concepts in it."
Forbes showed us old video of the first time he took it out for a ride. His maiden voyage took place in 1998 just over Mores Creek Summit, near Idaho City.
"I remember that day so well," he laughed. "I was somewhat nervous. It took me probably 20 minutes on the bike riding it until I was comfortable with it and I became really excited and enthusiastic about the potential."
The first snowbike prototype worked just like it was supposed to: That ski-like feel of slaloming, back and forth, maneuvering through the trees and downhill.
"Right there I was thinking, 'hey this turns really nicely,'" Forbes said. "It really is more like skiing with a motor than snowmobiling."
While Forbes was enjoying his first ride on the new contraption, others were getting a glimpse of the future of winter powersports.
"We did see some snowmobilers that day and they looked and thought, 'What on earth is that strange thing?' "
He went on to build a couple more generations of the prototype, improving on the original design.
"The evolution started with a fairly short, small track," he explained. "It didn't have a lot of track floatation. And then as we improved and improved, the tracks got wider and bigger and the skis got wider so that they'd float better on soft snow."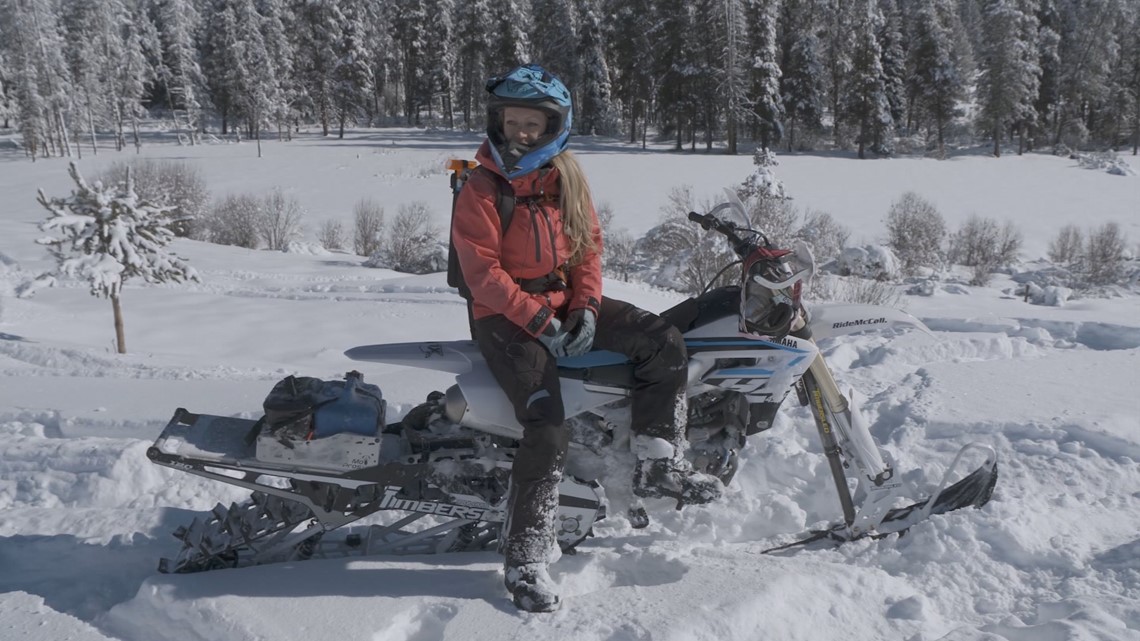 Forbes eventually started a company, 2Moto, and began producing his snowbike kits in 2006. The kits are essentially a series of parts that you add to a standard dirt bike to make it a snowbike.
According to Forbes, the modifications take just about an hour to complete, and have the added benefit of being reversible so you can still use your dirt bike during the summer.
25 years after Forbes first came up with the idea, snowbiking is now the fastest-growing powersport in the country, attracting top athletes from around the world.
What began with backcountry competitions in the Idaho mountains, including in the McCall area, has grown into an internationally-recognized sport.
A snow bikecross event debuted at the Winter X Games in 2017, and was so popular that organizers added a freestyle event last year.
Forbes says the races and competitions are the lifeblood of the sport, and that's what will keep driving innovation for even better machines.
"Just a new dimension for snowmobiling for the future," Forbes said during that first snowbike ride 20 years ago. "Let's hope this is the future."