"We've got a bunch of crazy cowboys pulling a bunch of crazy skiers," he said. "Hopefully nobody gets hurt, and everybody has a lot of fun. And tonight we drink beer."
Equal parts raucous entertainment and serious athletic endeavor, skijoring — where a rider on horseback pulls a skier through an obstacle course — is perhaps winter's wildest sport.
WATCH: What is skijoring?
The rider-horse-skier team with the fastest time through the course is crowned the winner. But there's more to winning than just speed.
The skier must ski through gates, complete several jumps, and grab a series of rings placed on the outside of the course — all while being towed behind a horse running roughly 25 to 30 mph.
The cowboy or cowgirl must also grab a ring during their ride, and of course, have to avoid falling off their horse.
WATCH: GoPro footage from a skijoring race

A two-second penalty is added for each ring missed, while missing a jump tacks on five seconds.
Skiers are required to wear helmets, but protective gear is just optional for the horseback riders. The horses are often fitted with boriums or spikes to improve their traction on the icy course.
Ski joring got its start in Scandinavian countries, primarily as a means of transportation, with skiers using dogs or reindeer to pull them across the snowy landscape during the winter months.
The competition came to the U.S. - and saw a switch to horses - in the 1940s. Although still a fairly niche sport, ski joring has seen a rise in popularity in recent years, according to organizers.
At Bellveue's 19th annual two-day competition, held Feb. 16 and 17, 36 teams total vied for bragging rights and a $5,000 prize.
The sport is a natural fit, said competitor Rick Farnsworth, who goes by the riding nickname "Big Sexy." He makes up the cowboy half of the team, riding his retired racehorse Charlie Prince.
"Being a horse guy, you're always looking for something to do in the winter," he said.
PHOTOS: Skijoring in Bellevue, Idaho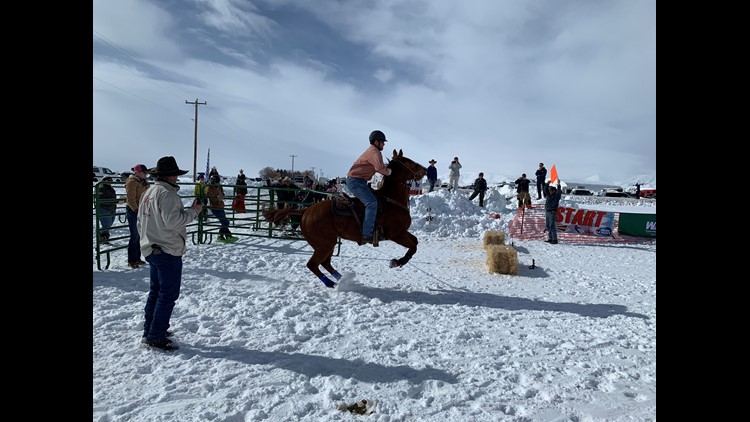 Sayre Smith, Farnsworth's skiing teammate, agreed, even though skijoring can sometimes end in dramatic crashes. Smith's own past skijoring injuries - a broken rib and a broken finger - weren't enough to put him off the sport, he said.
"It's an adrenaline rush," he said. "It's extreme skiing for sure."
Smith said he and Farnsworth have come up with a winning strategy to whip through the gates and down the course as quickly as possible.
"When I want to go faster, I just start yelling," he said.
Some competitors at the event, like Magic Valley Stampede Ambassador Lydia Miller, are skijoring pros, with years of races under her belt.
Others — including first-timers Brogan Ross and Spencer Brendel — just show up with a willingness to ride or give the whole towed-through-the-snow-behind-a-horse thing a shot.
"I practiced last night with a snowmobile and I've water skied before," Ross said. "I think I'll be alright."
The event even features a peewee division, drawing little competitors as young as six years old.
"It's a lot of fun," Farnsworth said. "The guys and the girls here are really cool. The camaraderie is awesome."