BOISE - The Twilight Criterium returns to downtown Boise on July 14 for its 32nd year, and organizers say this year's event will be better than ever.
Featuring some of the top pro cycling teams in the nation, as well as the best local and national amateur riders, the ASWB Twilight Criterium turns downtown Boise into a high-speed, high-stakes race course. The annual event is a featured race on the USA Cycling race calendar, and provides plenty of entertainment for spectators.
New this year, organizers are hosting a free family event Friday evening - the Twilight Trifecta - which celebrates community, cycling and French fries. Fans will have the opportunity to meet some of the racers, and get their fill on free French fries, courtesy of the JR Simplot Company.
On race day, spectators can enjoy food and drink at the family-friendly Twilight Fan Expo in Cecil D. Andrus Park (formerly Capitol Park).
And back by popular demand, kids can take on the race course for a ride with three-time Olympic gold medalist Kristin Armstrong.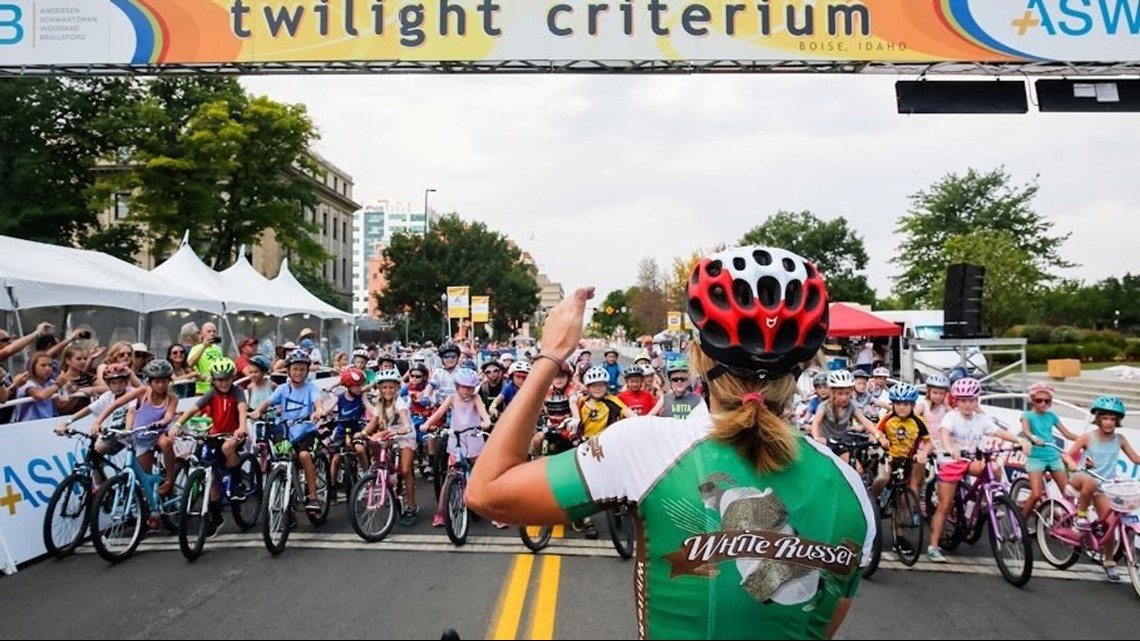 Saturday, July 14
Races begin at 1:45 p.m.
Downtown Boise (Cecil D. Andrus Park)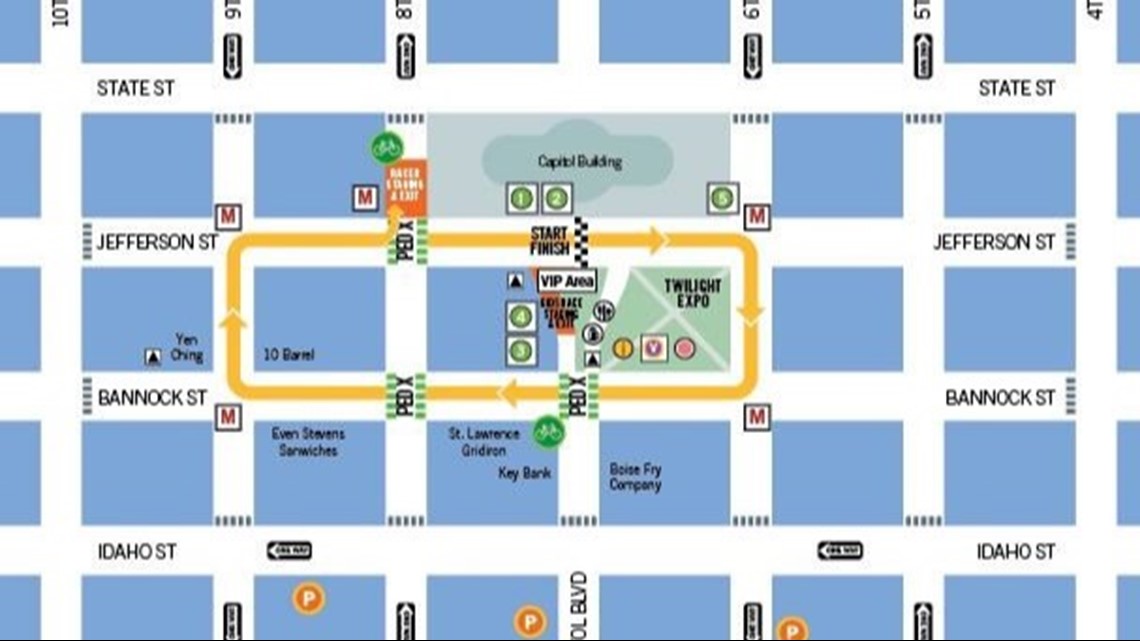 7 a.m. - Road closures begin: Jefferson Street at N. 6th Street and Capitol Boulevard; 8th Street at Idaho Street
12 p.m. - Full road closure
12 p.m. - Kids' Ride registration and autograph session with Kristin Armstrong
1 - 1:30 p.m. - Kids' Ride with Kristin Armstrong
1:45 p.m. - Expo area open
1:45 - 2:30 p.m. - Cat 4/5 (45 min)
2:45 - 3:30 p.m. - Masters 40+ (1/2/3) and Men 3 (45 min)
3:45 - 4:15 p.m. - Women 2/3/4 (30 min)
4:30 - 5:30 p.m. - Men 1/2/3 (60 min)
6 - 6:15 p.m. - GreenBike Celebrity Women's Bike Ride
6:15 - 6:30 p.m. - GreenBike Celebrity Men's Bike Ride
6:50 p.m. - Opening Ceremony
7 - 8 p.m. - Women's Pro 1/2 (60 min)
8:15 - 9:45 p.m. - Men's Pro/Cat. 1 (90 min)
10 p.m. - Awards Ceremony
12 a.m. - All roads reopen once equipment cleared
PHOTOS: 2017 ASWB Twilight Criterium
The Twilight Criterium kicks off its 2018 festivities with a new event called the Twilight Trifecta, which will take place Friday evening at Jack's Urban Meeting Place (JUMP) in downtown Boise.
The Trifecta features a racer meet-and-greet, an awards ceremony for the Chrono Kristin Armstrong Time Trial, and free French fries provided by JR Simplot Company (Friday is National Fry Day).
Here's the schedule of events:
4 - 7 p.m.: Free French fries in celebration of National Fry Day, along with beers and beverages for purchase. Anyone who donates $15 or more to the Idaho Foodbank will receive a commemorative "Frydaho" t-shirt.
4 - 6 p.m.: Autograph Alley - Fans can have special edition Twilight Trifecta autograph posters signed by some of the world's top cyclists.
6 - 6:30 p.m.: Chrono Kristin Armstrong Awards Ceremony - Awards presented to the winners of the only professional event of this caliber in the United States in 2018, happening earlier Friday in Star.
KIDS' RIDE WITH KRISTIN ARMSTRONG
Saturday's festivities kick off with this always-popular event. Kids ages 3 to 10 are invited to take a ride with Kristin Armstrong. Boise's own three-time Olympic gold medalist will also be on hand prior to the ride to sign autographs for the kids on a special edition Kids Ride poster. Registration for the ride begins at 12 p.m. on the lawn of the Borah Post Office (8th and Bannock), and the ride starts at 1 p.m. Preregister here.
This year's Start/Finish line is in front of the Statehouse in Downtown Boise, with racing around Cecil D. Andrus Park. Children must wear a helmet to participate, and water bottles are encouraged.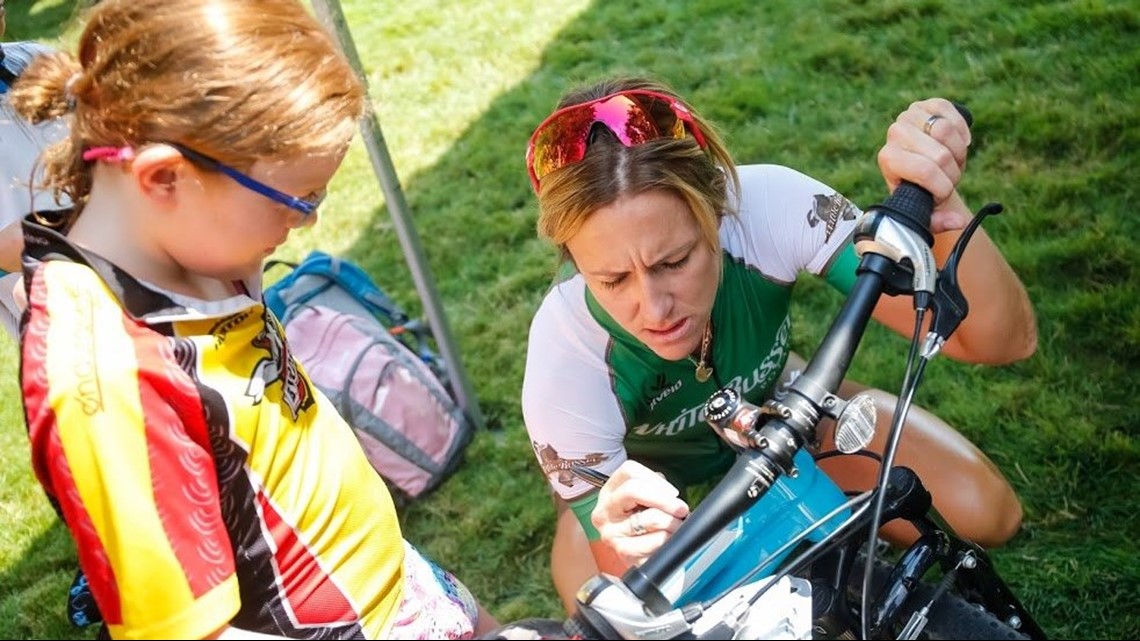 Volunteers are needed for a variety of jobs - from setting up the course to race marshals. It's an opportunity to be a part of the action and get the best seats in the house. To check out the available volunteer positions and to sign up, click here.