BOISE — Billed as the "greatest summer family tradition" in Boise, the Spirit of Boise Balloon Classic returns Aug. 29 through September 2. For five days, balloon pilots and crews from across the nation will gather in Boise's Ann Morrison Park, bringing the excitement and beauty of hot air balloon flight to Boise's morning skies.
The fun gets underway on Wednesday, Aug. 29 with Kids' Day. Children will have a chance to take a short flight in a tethered balloon and pose for photos inside a balloon basket.
Thursday through Sunday, 30 to 50 balloons will inflate and lift from the park, weather permitting. On Friday, Aug. 31, the Night Glow Spectacular illuminates Ann Morrison Park beginning at dusk. Admission is free for all events.
MORE: Spirit of Boise Balloon Classic: 'This is a global event'
Event organizers say more than 40 balloons will take part in this year's festivities, including some past fan favorites like "Tick-Tock" and "Speedy." There will also be several new shaped balloons making their debuts at this year's event.
Spirit of Boise Balloon Classic
Here are a few KTVB staff recommendations for your best experience at the Spirit of Boise Balloon Classic:
Parking is limited in Ann Morrison Park, so plan extra time for parking and walking.
Dress warmly! Temperatures can be chilly at dawn.
Grasses in the park can be dewy in the morning. Wear water resistant shoes to keep your feet dry and comfortable.
Bring your own blankets and chairs for comfortable seating.
Fill up your thermos. You can bring your own food and beverage.
Take lots of photos! The morning light and colorful balloons create a photographer's paradise.
Leave your pets at home. The crowded conditions are not ideal, the noise of the burners may startle them and dogs can't see all the colors anyway.
Drone operators: Do not fly unauthorized drones in the park or anywhere near the balloons. This is extremely dangerous and can cause all balloons to be grounded. Please respect the balloon pilots' safety and investment in the event and use only your hand held cameras.
Remember that balloon pilots can only fly when weather conditions are favorable. KTVB Meteorologists Larry Gebert and Jim Duthie will monitor weather each morning and brief the pilots. Occasionally conditions are not safe for flight and launch must be canceled.
KTVB is pleased to sponsor the 2018 Spirit of Boise Balloon Classic.
Spirit of Boise Balloon Classic final flight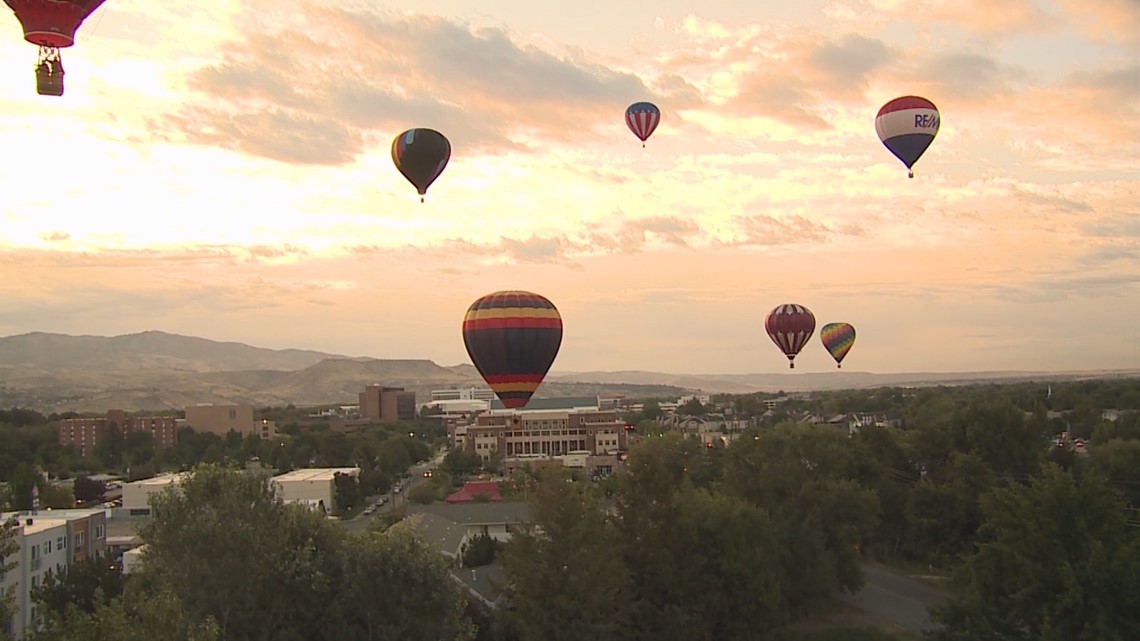 BALLOONING IN BOISE
Why is Boise great for ballooning? In short, it's because of a phenomenon called "The Boise Box."
From the event's organizers:
"The Boise Box"
The "Box" is not unique to Boise but is certainly one of the reasons Balloonist's are so eager to visit Boise each year.
Surface winds in the City of Boise shortly after sunrise are, generally speaking, blowing gently out of the Southeast toward the Northwest. A little higher up, because Boise is dominated by a west to east flow, winds are usually blowing from the Northwest to the Southeast. A directional change of 180 degrees.
While pilots can't steer balloons right or left they can climb or descend to find changing winds at different altitudes to influence where the balloon flies.
Pilots fly the Boise Box by lifting off, drifting toward the west for a distance then climbing into the wind carrying them back to the east. This maneuver allows them the opportunity to often land a short distance from where they take off, to a balloon pilot, who can't steer, the Box is a pretty cool thing.
EVENT INFORMATION
Aug. 29 - Sept. 2
Ann Morrison Park, Boise
EVENT GUIDE: Summer fun in the Treasure Valley and beyond
PARK ACCESS
Guests have two points of entry for this year's event. Guests can enter the park from Americana Blvd on the west side and from Capital and University on the east side. Both entrances are available for free parking on a first-come first-served basis. BSU students should note the park will be closed to student parking each morning.
SCHEDULE
Wednesday, Aug. 29
Kids' Day
7 a.m. - First inflation, 20 balloons will tether
Notes: Kids will have the opportunity to interact with pilots and balloons, pose for pictures, and (weather permitting) take a short lift in a balloon.
Kids' Day at the 2017 Spirit of Boise Balloon Classic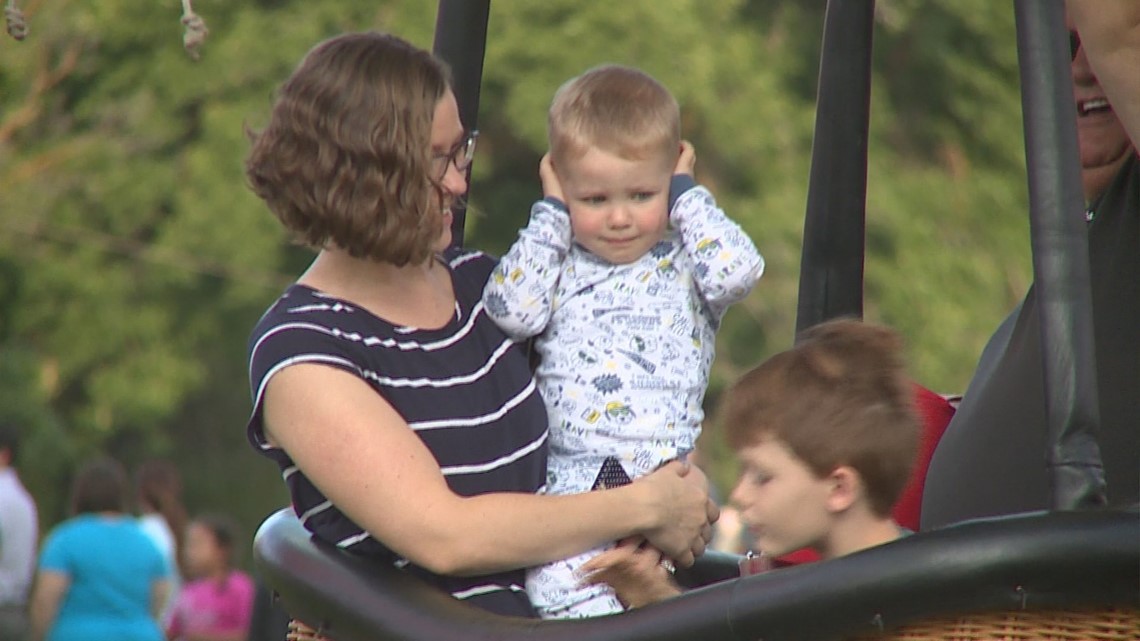 Thursday, August 30
Media Day
7 a.m.- First multiple balloon launch of 2018
Notes: Nearly 30 balloons are expected to take flight and pilots will carry members of the local media. "Media Day" is the official start of the Balloon Classic, with some guest pilots making their first appearances.
Friday, Aug. 31
VIP Day
7:05 a.m. - Tribute launch
7:15 a.m. - Multiple balloon launch
Notes: For VIP Day, people who have contributed to making the Balloon Classic possible are on board the balloons as special guests of the pilots.
Nite Glow Spectacular
6 p.m. - Balloons escorted to the park; Live music in park
6:45 p.m. - Demonstration inflations
7:15 p.m. - Children's happy dance at Olympic Spirit balloon
7:40 p.m. - Nite Glow weather briefing by KTVB's Larry Gebert
8:15 p.m. - Nite Glow
Notes: For the 27th year in row, pilots will be escorted from the host hotel to Ann Morrison Park by the Boise Police Department. The ballooning parade through the streets of Boise is a favorite with pilots as they make their way to the Nite Glow activities.
Jay Kenneth Photography
Balloons cannot lift off the ground in the dark, so pilots will turn the night into day with 12 balloons lined up side-by-side on the launch site. Pilots will fire the burners, turning the balloons into 100-foot tall lanterns upon a musical cue. The event usually lasts about 30 minutes.
Balloons cannot lift off the ground in the dark, so pilots will turn the night into day with the Spirit of Boise's largest Nite Glow Spectacular ever - 25 balloons lined up side-by-side on the launch site.
Saturday, Sept. 1
Governor's Cup Competition
7:15 a.m. - Multiple balloon launch
Notes: For competition day, pilots are assigned a navigational task to challenge their flying skills. The winning pilot is awarded the Governor's Cup for Aviation Excellence. According to event organizers, several portable toilets may be used as targets in a popular pilot game called "Porta-Potty Bowling."
Sunday, Sept. 2
The Great Launch
7:15 a.m. - Final multiple balloon launch
Notes: For the final day of flying, organizers are hoping to put all 50 balloons into the sky within one minute. Weather conditions must be near perfect for a successful and safe launch. If successful, the spectacular sight of colorful balloons over the park is unrivaled.
Jim Duthie/KTVB
HELPFUL LINKS