Used car dealer CarMax celebrated its first store in Idaho today with a grand opening event.
At its new location in Meridian, a $10,000 grant was announced from the CarMax Foundation to support local charities.
The event included opening remarks from CarMax President and CEO Bill Nash, a ribbon-cutting ceremony and a road rally for local nonprofits.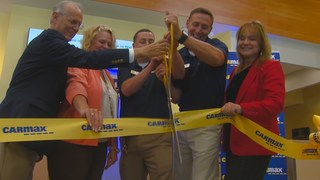 KTVB's Doug Petcash got in on the fun today. He was one of three local media personalities competing in a variety of games to win cash for charities. His chosen charity was the Meridian Food Bank.
Employees at CarMax say giving back is a big part of their philosophy.
"By keeping our associates engaged in the community people enjoy coming to work more when they feel like they are part of the community," said Meridian CarMax General Manager Louis Cominiello.
The Meridian store will have more than 200 used vehicles and has brought 50 new jobs to the area.
Copyright 2016 KTVB