BOISE - After two impressive road wins, Boise State returns home to Albertsons Stadium this week to face Wyoming in a game that has major implications in the battle for the Mountain West title.
A week after taking down BYU in Provo, the Broncos did what few thought they could - beat San Diego State. And they did it in spectacular fashion, dominating the No. 19 Aztecs (6-1, 2-1 MW) in all three phases of the game. Most notably, the visitors held star SDSU running back Rashaad Penny to just 53 yards on 21 carries in the 31-14 win. On that night, Boise State's defense - which racked up four sacks and 7.5 tackles for loss - looked like they could play with anyone in the country.
The victory was particularly sweet considering the team's offensive struggles this season. The last two weeks have shown they are making great strides, especially in the running game, which was virtually non-existent for the first month of the season.
MORE: Scott Slant: Tie for most satisfying Harsin-era win
The Broncos now turn their attention to Wyoming, a team that upset their perfect run in 2016. Coach Craig Bohl's Cowboys are once again a force to be reckoned with, and remain undefeated in conference after a win on the road against Utah State Saturday night.
With both teams sitting at 4-2 overall and 2-0 in conference, the winner of Saturday night's game will control their own destiny in the conference's competitive Mountain Division.
GAME INFORMATION
Boise State vs. Wyoming
Saturday, Oct. 21
Albertsons Stadium, Boise, Idaho
Kickoff: 8:15 p.m.
ON TV
The game will be televised on ESPN2, which can be found on the following channels:
Cable One: Channel 134 / 1134 (HD)
DirecTV: Channel 209
Dish Network: Channel 143
Cox: 33
ON THE RADIO
Fans can listen to the game on the Bronco Radio Network, which can be found online or on the following stations:
KBOI 670 AM in Boise
KTIK 93.1 FM in Boise
KDZY 98.3 FM in McCall
KSNQ 98.3 FM in Twin Falls
For a list of Bronco Radio Network stations outside the Boise area, click here.
BRONCO ROUNDUP GAME DAY
KTVB's Bronco Roundup Game Day show will be live from Albertsons Stadium before the game starting at 5 p.m. on KTVB, KTVB.COM, and in the Bronco Roundup app. Join Jay Tust, Will Hall and special guests for a look at all of the major storylines surrounding this matchup.
JIM DUTHIE'S FORECAST
For the Treasure Valley, increasing clouds Saturday morning and rain developing by afternoon and continuing through the evening, decreasing to scattered showers tonight. Temperatures near 50, cooling to the mid 40's by afternoon with the onset of rain. For the mountains, snow levels near 5000 feet to start, then gradually rising to near 8000 feet by tonight. 1-2" of snow possible on main roads this afternoon.
BRONCO BASH AT THE ALUMNI AND FRIENDS CENTER
KTVB and the Boise State Alumni Association are partnering again at the Bronco Bash, with a new feature this year: the Ultimate Fan Makeover. One fan at the Bash will be selected to receive apparel from the Boise State Bronco Shop, makeup and hair from Crazy Neighbor and a chance to grab cash in the Mountain America Credit Union cash machine. The Bronco Bash gets underway three hours before kickoff. It is free to the public and all are welcome.
BLUE & ORANGE COLOR SCHEME
Fans attending the game are asked to wear blue or orange depending on which section they are sitting in. People sitting in the corner sections, the North End Zone, and in the Stueckle Sky Center should wear orange, while everyone else wears blue.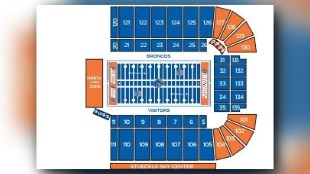 For more information, see the 2017 color scheme schedule.
BRONCOS-COWBOYS SERIES
Boise State and Wyoming have met a total of 11 times with the Broncos winning the first 10 contests, many of them by large point margins. But the tide turned last year as the Cowboys pulled off a shocking upset in Laramie and defeated the heavily-favored Broncos, 30-28.
Boise State's all-time record against Wyoming:
Oct. 29, 2016 - L, 28-30 (Laramie)
Oct. 24, 2015 - W, 34-14 (Boise)
Nov. 22, 2014 - W, 63-14 (Laramie)
Nov. 16, 2013 - W, 48-7 (Boise)
Oct. 27, 2012 - W, 45-14 (Laramie)
Nov. 26, 2011 - W, 36-14 (Boise)
Sept. 18, 2010 - W, 51-6 (Laramie)
Sept. 15, 2007 - W, 24-14 (Boise)
Sept. 16, 2006 - W, 17-10 (Laramie)
Sept. 27, 2003 - W, 33-17 (Boise)
Sept. 14, 2002 - W, 35-13 (Laramie)
LOOKING FOR PAYBACK
The last time the Broncos and Cowboys faced each other, Wyoming handed No. 13 Boise State its first loss of the season, and ruined its perfect 7-0 record. The game ended, much to the dismay of Bronco Nation, when a Brett Rypien fumble was batted out of the end zone for a safety, and the Pokes walked away with a 30-28 victory. The Wyoming faithful, deservedly, rushed the field as the clock ran out.
"They played well, they deserved to win," Boise State coach Bryan Harsin said. "They made more plays."
Now, one year later, as the Cowboys travel to the Blue, Boise State coaches, players and fans would like nothing better than to send Wyoming home with a heartbreaking loss of their own.
Wyoming quarterback Josh Allen said this week that last year's win gives the confidence of knowing they can compete with the Broncos.
"It just helps us all the more, it gives us more confidence, but at the same time it gives them a reason to play even harder," Allen said. "I'm sure they want to get back at us for what we did last year. That's the beauty of this game.
"It's never easy to beat Boise, especially in their stadium," Allen added. "It has been done, so we're gonna see what we can do to get that job done."
ABOUT LAST WEEK
Five days before Boise State played No. 18/19 San Diego State, Harsin said the most physical team would win the game. He was right. The Broncos won all three phases of the game, and were particularly dominant on defense, shutting down the Aztecs' vaunted offense, and holding one of the nation's top running backs, senior Rashaad Penny, to just 2.5 yards per carry. Boise State's defensive front spent a lot of time in SDSU's backfield, racking up 12 tackles for a loss, including four sacks.
On Monday, defensive coordinator Andy Avalos was quick to point out that there is always room for improvement, but noted that his unit is having fun while also holding itself to a high standard of excellence.
"You've got to be really, really diligent about certain things and you've got to withhold a certain standard," Avalos said. "But at the end of the day, the goal is to be successful at what we're doing, and the other night was fun. It was a team win."
Against a stout Aztec defense, Boise State's offense proved that it too can make things happen. While the Broncos are not the flashy big-play offense of years past, they have found a way to methodically move the ball. It's a huge step forward after the early season struggles, particularly in the ground game. Running back Alexander Mattison has found his groove, and for the second straight week, had a career best, picking up 128 yards on 23 carries, and a touchdown in the fourth quarter that sealed the win.
Reflecting on the big win, Harsin said it came thanks to a culmination of factors, and the fact that his guys continue to buy into the process of hard work and strong practice habits.
"You play like you practice," he said. "Our guys brought something to the table Saturday night too. They brought a little extra. I thought there was great emotion, I thought our team had a really good week. All three phases, everybody that's a part of practice, there was a focus."
Meanwhile in Logan, Utah, Wyoming rallied in the fourth quarter to beat Utah State 28-23. Future NFL signal-caller Josh Allen threw for 208 yards and a touchdown as the Cowboys scored the final 12 points.
Key to the win, Wyoming took advantage of Utah State's five turnovers. The Aggies held the edge in first downs and outgained the Cowboys 363-293 but couldn't overcome the three interceptions and two lost fumbles.
Wyoming sealed the win with 37 seconds left in the game when Carl Granderson sacked USU quarterback Kent Myers for a safety. Granderson, who logged six tackles, was named Mountain West Defensive Player of the Week for the play.
BOISE STATE'S 'SWISS ARMY KNIFE'
Avery Williams provided a spark against San Diego State, earning him his second Mountain West Special Teams Player of the Week honor of the season.
Williams was clutch, returning a punt 53 yards for a touchdown, and giving the Broncos an early 7-0 lead.
"I had 10 other guys that did their job, and blocked all their guys," recalled Williams. "It really made it easy on me."
The former walk-on also collected a 43-yard kickoff return to begin the second half, and recorded a career-high six tackles in his second start at cornerback.
Aptly dubbed Boise State's "Swiss Army knife" by KTVB sports analyst Tom Scott, Williams leads the Mountain West and ranks ninth in the FBS with an average of 15.9 yards per punt return. His two punt return touchdowns are second only to Dante Pettis of Washington, who has three.
Boise State defeats No. 19 San Diego State
SAN DIEGO, CA - OCTOBER 14: Avery Williams #26 of the Boise State Broncos catches the ball returning the punt 53 yards for a touchdown against the San Diego State Aztecs in the first half at SDCCU Stadium on October 14, 2017 in San Diego, California. (Photo by Kent Horner/Getty Images)
SAN DIEGO, CA - OCTOBER 14: Avery Williams #26 of the Boise State Broncos catches the ball returning the punt 53 yards for a touchdown against the San Diego State Aztecs in the first half at SDCCU Stadium on October 14, 2017 in San Diego, California. (Photo by Kent Horner/Getty Images)
RACE TO THE TOP OF THE MOUNTAIN
Just past the halfway point of the season, and the race for the Mountain West title is wide open. With three teams undefeated in the Mountain Division, and a surprise challenge from Fresno State in the West, it's anybody's guess which teams will be playing for the conference championship on Dec. 2.
From Monday's Scott Slant column:
"The Mountain Division race in the Mountain West has become muddier—and a lot more fun. Wyoming, the next guest on the blue turf this Saturday night, rallied past Utah State Saturday 28-23,while Colorado State struggled to hold off Nevada 44-42. There's a three-way race in the division now—the Rams are 3-0 in conference, and the Broncos and Cowboys are 2-0. If you want to muse about what might be at stake on Thanksgiving weekend in the San Joaquin Valley, well, there's Fresno State in first place in the West Division at 3-0 after a stunning 38-0 rout of New Mexico. The Bulldogs face San Diego State this Saturday at the stadium formerly known as Qualcomm."
DECHEVRIEUX FIELD OPEN FOR TAILGATING
A new pre-game feature this year, Boise State will open DeChevrieux Field, the Broncos' grass practice facility, as a tailgating option for home football games. The Tailgating Zone on Bronco Circle will feature covered tent locations for pregame parties, corporate events or personal tailgates.
The premium tailgating location sits along Bronco Circle and the Albertsons Stadium West Parking Lot, just 100 yards from the Athletic Ticket Office and entrances on the west side of the stadium. Spots will available on a first-come, first-served basis for individual games. Click here for a list of prices. To reserve your spot in the Tailgating Zone, email the Athletic Ticket Office at ticketoffice@boisestate.edu or call (208) 426-4737.
BRONCO WALK
Here's a chance for you to high-five your favorite players and coaches as they walk to the football center for pre-game preparations. The "Bronco Walk" will start when the team leaves the Student Union Building about two and half hours before kickoff. The team will walk from the Student Union Building, down University Drive, past the Varsity Center, straight into the east stadium parking lot and end at the Bleymaier Football Center.
10 TO 10 ZONE
The 10 to 10 Zone remains in place for home games this season. It specifies areas off-campus where people age 21 or older may consume alcoholic beverages from 10 a.m. to 10 p.m. on Boise State University home football game days only.
Alcoholic beverages are allowed in opaque plastic cups within the zone. Glass containers, beer cans, and type of liquor bottle and cups with alcoholic labeling are not allowed.
The "Zone" begins at Broadway Avenue and Myrtle Street, extends south down Broadway to Beacon, turns west along Beacon, north up Oakland Avenue, west on Potter Drive, north again up South Joyce Street, and then west along University Drive all the way to Capitol Boulevard. The boundary extends north along Capitol and turns east onto Cesar Chavez Lane, crosses Friendship Bridge north, and leads into Julia Davis Park. In the park, the "10 to 10 Zone" boundary is the area east of Zoo Boise to Broadway Avenue, and south of the Julia Davis pond.
ENTRY TO THE GAME
Bronco fans should arrive early. Those whose seats are not in the Stueckle Sky Center may enter the stadium through any gate. Fans are encouraged — but not required — to leave their bags at home or in the car. For faster entry into the stadium, bring a clear bag or no bag to the game. Prior to entry, fans will pass through metal detectors, and any bags carried in will be subject to search. Remember to leave prohibited items behind, including all weapons, alcohol, glass, and coolers. Find a full list here.
TRAFFIC, PARKING & FREE SHUTTLES
Expect increased traffic on all roads surrounding Boise State before and after the game. University Drive, from Capitol Boulevard to Broadway Avenue, will be congested throughout the morning and afternoon. Because of limited public parking on-campus, fans are encouraged to park off-campus and walk/bike or use a shuttle to get to the game.
Lots & Garages On Campus:
The Albertsons Stadium parking lot will open eight hours prior to game time on Saturdays and four hours prior to every game during weekdays.
Boise State's bike corral will be available near Christ Chapel on the corner of Broadway Avenue and Cesar Chavez Lane.
Spaces will be available for a $10 fee in the following lots and garages:
Plaza East and West lots
Brady Street Garage and Lincoln Avenue Garage
Handicap accessible spaces will be available for a $10 fee in the West and East Stadium lots, the Engineering and Technology reserved lot and on the ground floor of the Lincoln Avenue Garage.
Vehicles parked in accessible spaces must display an ADA license plate or placard and the placard/license plate registrant must be an occupant in the vehicle in order to purchase game day accessible parking.
Parking in Boise Parks:
Parking is allowed in designated parking spots within Julia Davis Park, Ann Morrison Park, Riverside Park, and Kristin Armstrong Municipal Park. Parking for Boise State home games is free on a first come, first served basis.
Towing will be delayed at those parks until 3 a.m. the following morning regardless of kickoff time. Overnight parking is prohibited.
Off-campus Parking:
The Downtown Boise Association coordinates free shuttle buses from five convenient downtown locations to Bronco Stadium. These shuttles run every 15 minutes starting two hours prior to game time, and immediately after the game for one hour.
6th & Grove (Bardenay)
8th & Main
8th between Idaho & Bannock (Red Feather/Bittercreek)
8th & Broad (Solid Grill & Bar)
River Street between 12th & Ash (Payette Brewing)
More information on Bronco Gameday Shuttle can be found here.
The Washington Group parking garage located at 720 Park Boulevard, across from the Ram, costs $5 (or free with a BAA permit). Boise Tour's shuttle will take you to the game for free.
For more information on game day parking options, click here.