Boise State fans will get a post-Halloween treat on Saturday. The Broncos' homecoming game against the Nevada Wolf Pack is set to kick off at 5 p.m., giving fans a break from the late-night affairs that have become the norm in recent years.
LIVE GAME TRACKER: Broncos vs. Wolf Pack
Thanks to upset losses by Colorado State and Fresno State, the Broncos (6-2, 4-0 MW) remain the only team undefeated in conference, and currently sit alone atop the Mountain Division. They solidified their standing as the team to beat in Mountain West with a dominant 41-14 win at Utah State last weekend.
Meanwhile, Nevada (1-7, 1-3, MW) is hoping their bye last week will help reset what has been a difficult season, to say the least. The Wolf Pack's sole win came in Week 6 against Hawaii. Offensively, Nevada has put up solid numbers (38.5 ppg), but the defense hasn't been able to hold opposing offenses in check. Nevada lost its last two games - against Colorado State and Air Force - by a combined five points.
After a two-year break, Saturday's homecoming game on the Blue renews a rivalry that dates back five decades.
The upset-minded Wolf Pack would love to play spoiler for Boise State's conference title game aspirations. And with a big game at Colorado State coming up on Nov. 11, the Broncos will need to stay focused on the task at hand.
Boise State coach Bryan Harsin said at his Monday press conference that his team will be ready, and noted that despite Boise State's dominant record against the Wolf Pack in recent years, this is most definitely a rivalry game.
"In my mind, Boise State-Nevada, that's a big game, that's a rivalry game, that's a game that everyone looks forward to," Harsin said. "Nevada's always been a big game, it still is."
Nevada coach Jay Norvell said in a press conference Tuesday afternoon that his team knows the challenge that the Broncos present.
"When you play a rivalry game against a really great opponent, you have to really step up your game," Norvell said. "And we've talked about that all year long - having the type of team that rises to the challenge."
GAME INFORMATION
Nevada at Boise State
Saturday, Nov. 4
Albertsons Stadium, Boise, Idaho
Kickoff 5 p.m. MT
ON TV
The game will be televised on ESPNU, which can be found on the following channels:
Cable One: Channel 136 / 1136 (HD)
DirecTV: Channel 208
Dish Network: Channel 141
ON THE RADIO
Fans can listen to the game on the Bronco Radio Network, which can be found online or on the following stations:
KBOI 670 AM in Boise
KTIK 93.1 FM in Boise
KDZY 98.3 FM in McCall
KSNQ 98.3 FM in Twin Falls
For a list of Bronco Radio Network stations outside the Boise area, click here.
BRONCO ROUNDUP GAME DAY
KTVB's Bronco Roundup Game Day show gets underway at 9 a.m. on KTVB. You can also watch it on Idaho's Very Own 24/7, KTVB.COM, and in the Bronco Roundup app just before kickoff at 4:30 p.m. Join Jay Tust, Will Hall and special guests for a look at all of the major storylines surrounding this matchup.
Bronco game day forecast now looks to be dry for the game and for tailgating before the contest Saturday. pic.twitter.com/ucq0Yiirp7

— Larry Gebert (@KTVBLarry) November 3, 2017
BRONCO BASH AT THE ALUMNI AND FRIENDS CENTER
KTVB and the Boise State Alumni Association are partnering again at the Bronco Bash, with a new feature this year: the Ultimate Fan Makeover. One fan at the Bash will be selected to receive apparel from the Boise State Bronco Shop, makeup and hair from Crazy Neighbor and a chance to grab cash in the Mountain America Credit Union cash machine. The Bronco Bash gets underway three hours before kickoff. It is free to the public and all are welcome.
HOMECOMING PARADE
Boise State's Homecoming Parade starts at 2 p.m. Saturday. It begins at University Drive and Brady Street and ends at University and Denver Street. For more information, click here.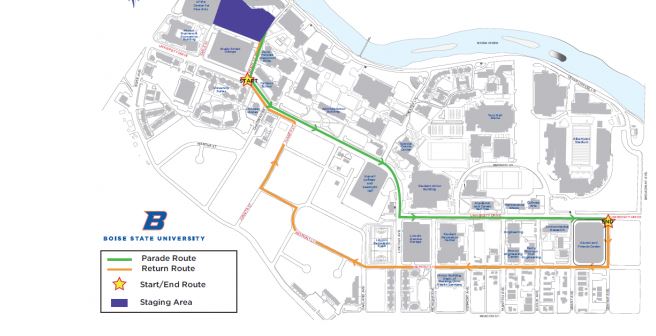 CHECKERED COLOR SCHEME
Fans attending the homecoming game will checker Albertsons Stadium with blue and orange Saturday afternoon. The student section and Stueckle Sky Center are blue, while fans in the North End Zone will wear orange. All other sections alternate colors.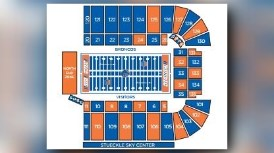 For more information, see the 2017 color scheme schedule.
BRONCOS-WOLFPACK SERIES
The Broncos own a 28-13 all-time record against the Wolf Pack - including an impressive 10-game win streak between 1999 and 2009 - in a rivalry that dates back to 1971. Boise State and Nevada have faced each other as conference rivals in four separate conferences - Big Sky, Big West, Western Athletic and Mountain West. The series has been particularly lopsided over the past two decades with the Broncos winning 14 of the last 15 games. The teams last played on Oct. 4, 2014, a 51-46 Broncos victory in Reno.
MORE: Scott Slant: Is it a rivalry? Lest we forget...
Boise State's all-time record against Nevada:
Sept. 25, 1971 - W, 17-10 (Reno)
Oct. 14, 1972 - W, 56-19 (Boise)
Nov. 3, 1973 - L, 23-21 (Reno)
Oct. 5, 1974 - W, 36–16 (Boise)
Nov. 8, 1975 - W, 49–6 (Reno)
Oct. 23, 1976 - W, 26–8 (Boise)
Oct. 15, 1977 - L, 28–10 (Reno)
Nov. 10, 1979 - W, 28–27 (Reno)
Nov. 8, 1980 - W, 14–3 (Boise)
Oct. 31, 1981 - W, 13–3 (Reno)
Sept. 18, 1982 - W, 20–13 (Boise)
Sept. 24, 1983 - L, 38–20 (Reno)
Sept. 22, 1984 - W, 37–12 (Boise)
Sept. 21, 1985 - L, 37–10 (Reno)
Nov. 8, 1986 - L, 21–16 (Boise)
Nov. 7, 1987 - W, 36–31 (Reno)
Oct. 29, 1988 - W, 40–28 (Boise)
Nov. 4, 1989 - L, 30–14 (Reno)
Nov. 10, 1990 - W, 30–14 (Boise)
Dec. 8, 1990 - L, 59–52 (Reno)
Oct. 26, 1991 - L, 17–14 (Reno)
Sept. 11, 1993 - L, 38–10 (Reno)
Sept. 17, 1994 - W, 37–27 (Boise)
Oct. 12, 1996 - L, 66–28 (Reno)
Nov. 8, 1997 - L, 56–42 (Boise)
Oct. 31, 1998 - L, 52–24 (Reno)
Oct. 23, 1999 - W, 52–17 (Boise)
Oct. 27, 2001 - W, 49–7 (Boise)
Nov. 23, 2002 - W, 44–7 (Reno)
Nov. 29, 2003 - W, 56–3 (Boise)
Nov. 27, 2004 - W, 58–21 (Reno)
Oct. 29, 2005 - W, 49–14 (Boise)
Nov. 25, 2006 - W, 38–7 (Reno)
Oct. 14, 2007 - W, 69–67 (Boise)
Nov. 22, 2008 - W, 41–34 (Reno)
Nov. 27, 2009 - W, 44–33 (Boise)
Nov. 26, 2010 - L, 34–31 (Reno)
Oct. 1, 2011 - W, 30–10 (Boise)
Dec. 1, 2012 - W, 27–21 (Reno)
Oct. 19, 2013 - W, 34–17 (Boise)
Oct. 4, 2014 - W, 51–46 (Reno)
RETRO BRONCOS
Aside from its continued use of two quarterbacks, Boise State looked like a vintage Broncos team last week in its 41-14 win over Utah State. Brett Rypien returned to form completing his first multi-touchdown game of the year. Rypien had averaged just 137 passing yards per game. That all changed against the Aggies, with the junior signal caller completing 19 of 27 passes 260 yards. His three touchdown passes were more than he had the rest of the season combined.
And it wasn't just Rypien getting back in the groove - the entire offense seemingly came to life against Utah State.
KTVB sports analyst Tom Scott broke it down in Monday's Scott Slant column:
Rypien's night was symptomatic of the Boise State offense coming out of hiding. Yes, there were more Bronco-esque numbers than have been seen all season. After averaging 28 points per game and just 337 yards—and only 197 passing—coming into the game, the Broncos finally had their first 40-point game in regulation this season. They also piled up 533 yards, their first 400 and 500-yard games in regulation, all rolled into one. It a was a retro look, with 370 passing yards. The verticality was back, as six different players caught passes of 20 yards or longer. Rypien and Montell Cozart averaged four more yards per attempt than they had coming in, and they threw for five TDs after the offense had only nine through the air entering Logan.
TEAM TACKLING
With the offense getting back on track, the defense continued to dominate, especially against the run. The Broncos' rush defense is ranked seventh nationally after holding Utah State to just 93 yards on 27 attempts (3.6 ypc). It was the fifth game this year in which the opposing offense was held to less than 100 yards rushing.
Sophomore linebacker Tyson Maeva had a team-high 10 tackles, while eight players recorded tackles for loss.
CLIMBING THE MOUNTAIN
Boise State Coach Bryan Harsin has always been adamant that his team not look past the current week's opponent. That's particularly important this week as the Broncos prepare for a struggling Nevada team, with Colorado State waiting in the wings. The Rams (6-3, 4-1 MW), fell from the ranks of the Mountain West unbeaten on Saturday when they got thumped 45-28 by Air Force. That wasn't the only conference upset last weekend - Fresno State (5-3, 4-1 MW) was shocked by UNLV 26-16.
Now Boise State is the only team still unbeaten in conference play.
While Fresno State still controls the West Division, the Mountain Division could very well come down to the Nov. 11 matchup between the Broncos and Rams in Fort Collins. In other words, both teams control their own destiny; If one of them can win out, they'll make the conference championship game.
POSTSEASON PROSPECTS
With its win against the Aggies, the Broncos became bowl-eligible for the the 19th consecutive season, but the Broncos will play in just their 16th consecutive bowl game. The asterisk came in 2001 when Boise State went 8-4 but was passed over for the WAC's spot in the Humanitarian Bowl in favor of Louisiana Tech.
DECHEVRIEUX FIELD OPEN FOR TAILGATING
A new pre-game feature this year, Boise State will open DeChevrieux Field, the Broncos' grass practice facility, as a tailgating option for home football games. The Tailgating Zone on Bronco Circle will feature covered tent locations for pregame parties, corporate events or personal tailgates.
The premium tailgating location sits along Bronco Circle and the Albertsons Stadium West Parking Lot, just 100 yards from the Athletic Ticket Office and entrances on the west side of the stadium. Spots will available on a first-come, first-served basis for individual games. Click here for a list of prices. To reserve your spot in the Tailgating Zone, email the Athletic Ticket Office at ticketoffice@boisestate.edu or call (208) 426-4737.
BRONCO WALK
Here's a chance for you to high-five your favorite players and coaches as they walk to the football center for pre-game preparations. The "Bronco Walk" will start when the team leaves the Student Union Building about two and half hours before kickoff. The team will walk from the Student Union Building, down University Drive, past the Varsity Center, straight into the east stadium parking lot and end at the Bleymaier Football Center.
10 TO 10 ZONE
The 10 to 10 Zone remains in place for home games this season. It specifies areas off-campus where people age 21 or older may consume alcoholic beverages from 10 a.m. to 10 p.m. on Boise State University home football game days only.
Alcoholic beverages are allowed in opaque plastic cups within the zone. Glass containers, beer cans, and type of liquor bottle and cups with alcoholic labeling are not allowed.
The "Zone" begins at Broadway Avenue and Myrtle Street, extends south down Broadway to Beacon, turns west along Beacon, north up Oakland Avenue, west on Potter Drive, north again up South Joyce Street, and then west along University Drive all the way to Capitol Boulevard. The boundary extends north along Capitol and turns east onto Cesar Chavez Lane, crosses Friendship Bridge north, and leads into Julia Davis Park. In the park, the "10 to 10 Zone" boundary is the area east of Zoo Boise to Broadway Avenue, and south of the Julia Davis pond.
ENTRY TO THE GAME
Bronco fans should arrive early. Those whose seats are not in the Stueckle Sky Center may enter the stadium through any gate. Fans are encouraged — but not required — to leave their bags at home or in the car. For faster entry into the stadium, bring a clear bag or no bag to the game. Prior to entry, fans will pass through metal detectors, and any bags carried in will be subject to search. Remember to leave prohibited items behind, including all weapons, alcohol, glass, and coolers. Find a full list here.
TRAFFIC, PARKING & FREE SHUTTLES
Expect increased traffic on all roads surrounding Boise State before and after the game. University Drive, from Capitol Boulevard to Broadway Avenue, will be congested throughout the morning and afternoon. Because of limited public parking on-campus, fans are encouraged to park off-campus and walk/bike or use a shuttle to get to the game.
Lots & Garages On Campus:
The Albertsons Stadium parking lot will open eight hours prior to game time on Saturdays and four hours prior to every game during weekdays.
Boise State's bike corral will be available near Christ Chapel on the corner of Broadway Avenue and Cesar Chavez Lane.
Spaces will be available for a $10 fee in the following lots and garages:
Plaza East and West lots
Brady Street Garage and Lincoln Avenue Garage
Handicap accessible spaces will be available for a $10 fee in the West and East Stadium lots, the Engineering and Technology reserved lot and on the ground floor of the Lincoln Avenue Garage.
Vehicles parked in accessible spaces must display an ADA license plate or placard and the placard/license plate registrant must be an occupant in the vehicle in order to purchase game day accessible parking.
Parking in Boise Parks:
Parking is allowed in designated parking spots within Julia Davis Park, Ann Morrison Park, Riverside Park, and Kristin Armstrong Municipal Park. Parking for Boise State home games is free on a first come, first served basis.
Towing will be delayed at those parks until 3 a.m. the following morning regardless of kickoff time. Overnight parking is prohibited.
Off-campus Parking:
The Downtown Boise Association coordinates free shuttle buses from five convenient downtown locations to Bronco Stadium. These shuttles run every 15 minutes starting two hours prior to game time, and immediately after the game for one hour.
6th & Grove (Bardenay)
8th & Main
8th between Idaho & Bannock (Red Feather/Bittercreek)
8th & Broad (Solid Grill & Bar)
River Street between 12th & Ash (Payette Brewing)
More information on Bronco Gameday Shuttle can be found here.
The Washington Group parking garage located at 720 Park Boulevard, across from the Ram, costs $5 (or free with a BAA permit). Boise Tour's shuttle will take you to the game for free.
For more information on game day parking options, click here.