BOISE - The Boise State football team travels to Honolulu, Hawai'i this week to take on the Rainbow Warriors in a nationally-televised matchup.
The 24th-ranked Broncos (8-1, 4-1 MWC) are coming off a solid 45-31 win at home against San Jose State on Friday night. They still have designs on the conference championship game, but will need to win the rest of their games while also hoping for at least one Wyoming loss.
Meanwhile, the Warriors are in second place in the West Division of the Mountain West, but are miles behind San Diego State, which shut out Hawaii on the mainland, 55-0, on Saturday. It was the second-straight loss for the Warriors, who have won two home games and two away games so far this season. Because they play a 13-game schedule, UH will need to win the remainder of its games, including Saturday against the Broncos, just to get bowl eligible.
The last time the Broncos played at Hawaii was in 2012, a 49-14 win. At his press conference on Tuesday, Boise State coach Bryan Harsin said his team is looking forward to making the trip to the islands.
"Very few guys on this team have ever had a chance to play at Hawaii, a few of the seniors," Harsin said. "This is a whole new experience for a majority of our football team. And we're looking forward to it."
GAME INFORMATION
Boise State at Hawaii
Saturday, Nov. 12
5 p.m. MT
Aloha Stadium, Honolulu, Hawaii
ON TV
The game will air on CBS Sports Network, which can be found on the following television providers:
Cable One: Channel 139 / 1139 (HD)
DirecTV: Channel 221
Dish Network: Channel 158
ON THE RADIO
In the Boise area, you can listen to the game on the Bronco Radio Network, which can be found on the following stations:
For a list of Bronco Radio Network stations outside the Boise area, click here.
BRONCO ROUNDUP GAME DAY
KTVB's Bronco Roundup Game Day show will be live from Aloha Stadium from 9:30 - 10 a.m. on KTVB, KTVB.COM, and in the Bronco Roundup app. Join Will Hall as he broadcasts live from Aloha Stadium with a look at all the major storylines leading up to the game.
BRONCOS-WARRIORS SERIES
Boise State is 11-3 all-time against Hawaii. The Broncos have won five-straight games by an average of 38 points per game since a 39-27 loss to the Rainbow Warriors back in 2007.
Last season in Boise, the Broncos won 55-0.
RELATED: Twin shutouts — different years (and eras)
Boise State's only losses against Hawaii have come at Aloha Stadium, where the Broncos are 5-3 all-time.
Hawaii coach Nick Rolovich said this week that playing San Diego State and Boise State back-to-back is a tough task, but it shows his team where they need to be.
The Broncos are "the guys that have set themselves apart in this conference very early on," Rolovich said. "We got a taste of what we want to be with San Diego State. You know, we see Boise coming up. Those are the guys who we need to aspire to be like if we want to compete in this conference consistently."
A UH loss this week would give the 'Bows a losing regular season record for the sixth-straight year, which would set a new school record.
ABOUT LAST WEEK
Boise State relied heavily on its ground game in Friday night's 45-31 victory over San Jose State. Jeremy McNichols rushed for 158 yards and two touchdowns while Alexander Mattison had a career-high 100 yards and one touchdown in game that saw the usually high-powered Broncos air attack somewhat diminished.
#BoiseState RB Jeremy McNichols ranks 1st in the FBS in total touchdowns (20), 2nd in touches (254) and 3rd in total yards (1,615). pic.twitter.com/thkqqSvO8u

— Jay Tust (@KTVBSportsGuy) November 7, 2016
When he did go to the air, quarterback Brett Rypien was extremely efficient, going 16-of-21 for 219 yards and three touchdowns. Cedrick Wilson led the receivers with six receptions for 102 yards and two touchdowns. Surprisingly, the Broncos' record-holder in career receiving yards - Thomas Sperbeck - had just two catches for 19 yards in the game.
MORE: Scott Slant: Game-changing moments came early
Boise State vs. San Jose State
Nov 4, 2016; Boise, ID, USA; Boise State Broncos running back Alexander Mattison (22) scores a rushing touchdown during first half action against the San Jose State Spartans at Albertsons Stadium. Mandatory Credit: Brian Losness-USA TODAY Sports
Nov 4, 2016; Boise, ID, USA; Boise State Broncos running back Alexander Mattison (22) scores a rushing touchdown during first half action against the San Jose State Spartans at Albertsons Stadium. Mandatory Credit: Brian Losness-USA TODAY Sports
In the West Division of the Mountain West, there is San Diego State (8-1, 5-0 MWC) and everybody else. That was evident on Saturday as the Aztecs blanked the Warriors 55-0, in what was billed as a matchup between the division's top two teams. The win at Qualcomm Stadium secured San Diego State's place in the conference championship game and dropped Hawaii to 4-6 overall and 3-3 in the conference.
The Warriors came into the game having won their last two road games, but were dominated on both sides of the ball throughout the contest. The Aztecs piled up 296 yards rushing thanks to running backs Donnel Pumphrey (112 yards) and Rashaad Penney (108 yards). San Diego State's defense limited UH to a season-low 215 total yards and forced four turnovers, including two pick-sixes.
Boise State coach Bryan Harsin said on Tuesday that his team is not overlooking this week's opponent, noting that UH is a difficult team to play, especially on the island.
"They'll be ready to play," Harsin said of the Warriors. "We have to certainly be focused and ready to play, because if not, every single week in college football, if you don't show up with the right focus, I don't care how good you are, you're gonna be a battle. You're gonna get beat."
Hawaii vs. San Diego State
Hawaii Warriors quarterback Dru Brown (19) passes as offensive lineman RJ Hollis (74) blocks San Diego State Aztecs linebacker Calvin Munson (54) during the first quarter at Qualcomm Stadium. Mandatory Credit: Jake Roth-USA TODAY Sports
Hawaii Warriors quarterback Dru Brown (19) passes as offensive lineman RJ Hollis (74) blocks San Diego State Aztecs linebacker Calvin Munson (54) during the first quarter at Qualcomm Stadium. Mandatory Credit: Jake Roth-USA TODAY Sports
POLL POSITION
The Broncos held steady at No. 24 in the latest AP and coaches polls, while being jumped by Washington State following the Cougars' 69-7 thrashing of Arizona on Saturday. WSU is now ranked No. 23 in both polls, having won seven straight after starting out 0-2, including a 28-31 loss to the Broncos on Sept. 10.
In the all-important College Football Playoff Rankings, however, the Broncos actually moved up two spots to No. 22. More on this from from Wednesday's Scott Slant:
Boise State not only has to ignore the soothing sights of surf and sand this week, it has to block out the noise of the new College Football Playoff rankings. The Broncos' 45-31 win over San Jose State was apparently enough for the CFP committee to move them up two spots to No. 22 last night. And they're still just one spot behind the top-ranked Group of 5 school, Western Michigan. Even those with the bluest and orangest of glasses have to be surprised that San Diego State isn't in the CFP rankings. The Aztecs are 8-1 and are routinely destroying their Mountain West competition.
Boise State's loss to Wyoming on Oct. 29 put a serious damper on the team's hopes of getting to the Mountain West Championship game. The Cowboys (7-2, 5-0 MWC) are now in the driver's seat for the Mountain Division, and have the head-to-head tiebreaker over the Broncos. In order to win the division, the Broncos will need to go undefeated for the remainder of the season, and have Wyoming lose twice over the next three games. Alternately, if New Mexico, which Boise State defeated on Oct. 7, wins out and beats the Cowboys on Nov. 26, a three-way tie will be created and the highest-ranked team in the CFP poll at the end of the season will represent the division in the conference championship game. Boise State is currently the only ranked team in the Mountain West.
In short, Boise State fans should be rooting hard for the Lobos to win the rest of their games.
MAKING HIS MARK
Standout receiver Cedrick Wilson has quickly become a fan-favorite for the Broncos this season. The junior college transfer is currently tied with Wyoming's Tanner Gentry for the lead in Mountain West touchdown catches this year with eight. With four games to go this season, he has already put together the second-best season ever by a first-year Bronco. Wilson's 686 receiving yards is just 231 yards shy of the record set by Rodney Smith in 1997.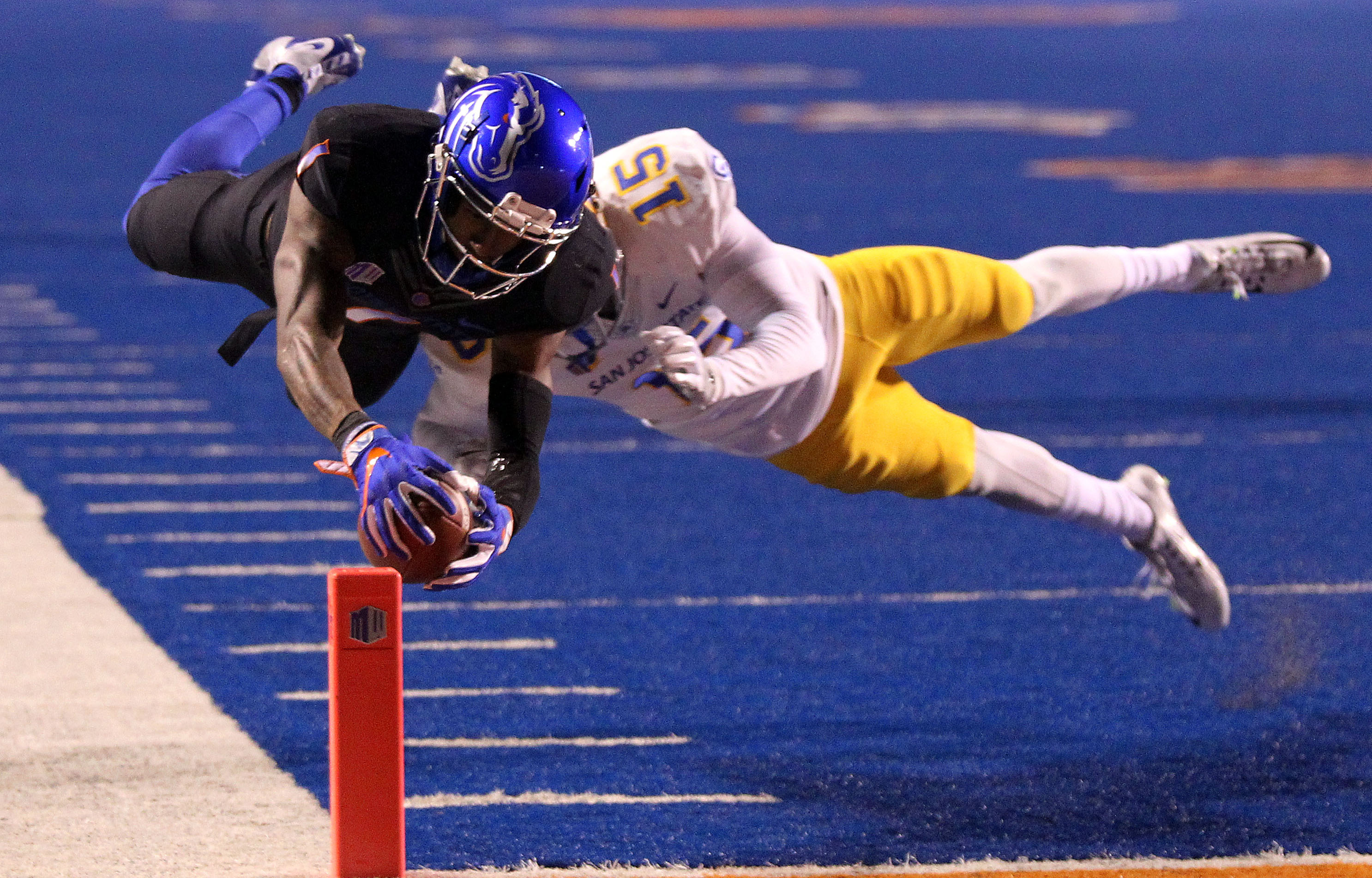 GOOD GRACES
Safety Dylan Sumner-Gardner made his triumphant return as a starter against the San Jose State last week, and he quickly proved to coaches that it was the right call. On the Spartans' first drive of the game, the sophomore intercepted a Kenny Potter pass, giving the Broncos just their fifth turnover recovery of the season.
It was a moment of redemption for DSG, who spent most of last season on the sideline nursing an injury, and then was suspended for the first four games of this season after failing to meet academic requirements. His playing time has gradually increased in recent weeks, and Friday's start was his first since Sept. 25, 2015 at Virginia.
On Tuesday, both coach Bryan Harsin and defensive coordinator Andy Avalos remarked on the progress the once highly-touted recruit has made.
"We love Dylan," Harsin said. "And he's done what he's been asked to do. He's worked himself into a position, he's been very focused. Being back out there, I know he has a different appreciation for playing."
The Broncos are -8 in turnover ratio on the season, so coaches are looking for anything they can get to turn the tide.
"It's what we've been looking for," Avalos said. "He's provided that spark in practice and he was able to go in there and do it in the game. Confidence is everything. Not only for him, but to give that spark to the rest of the defense. It's something to build off of."
HILL'S HAWAIIAN HISTORY
Boise State co-offensive coordinator Zak Hill is no stranger to the Rainbow Warriors. In fact, he was one of coach Nick Rolovich's first hires after taking over head coaching duties in 2015. But Hill departed UH just over a month later when he was hired by Harsin.
According to Rolovich, there are no hard feelings. And Hill says he's still friendly with the coaching staff at Hawaii.
"It was definitely not an easy decision, but when it came down to it, it was family, location," Hill said. "And obviously, the program here sells itself and has been historically great for a long time. Ultimately Boise was a place that I had dreamed of coaching, and so putting it all together it made a lot of sense to come over here.
"It was awkward, but ultimately you gotta do what's best for your family," he added.