BOISE - The Broncos travel to Fort Collins this week to take on a Colorado State team that is among the best in the nation at moving the ball.
LIVE GAME TRACKER: Broncos vs. Rams
Boise State (7-2, 5-0 MW) is riding a five-game win streak that includes consecutive 41-14 blowouts over the past two weeks. Undefeated in conference, the Broncos have their eyes set on making their first conference title game since 2014. In order to do that, they'll need to win two of their final three regular season games.
Just a few weeks ago, the matchup with the Colorado State (6-4, 4-2) looked like the game that would decide the Mountain Division. But then things went badly for the Rams. They are coming off a two-game skid with losses to Air Force and Wyoming that all but eliminated their chances of making the conference championship.
But Coach Bryan Harsin and his Broncos know those losses don't make the Rams any less dangerous. Averaging 484 yards per game, Colorado State is ranked 16th in the nation in total offense, and quarterback Nick Stevens is ranked 9th with nearly 2,900 yards on the season. And that's not to mention the two-headed monster that is running back Dayln Dawking (1,050 rushing yards this season) and receiver Michael Gallup, whose 1,196 receiving yards are tops in the nation.
"Gallup is a fantastic receiver, one of the best I've seen," Harsin said at Monday's press conference. "Their offense is very good, they're very balanced."
The respect is mutual. CSU coach Mike Bobo, while acknowledging that his team is no longer in the driver's seat when it comes to the conference title game, said the one thing they can control is how they prepare for the Broncos.
"We are playing a team that is arguably the best team in the conference," he said. "We are playing team that Colorado State has never beaten."
GAME INFORMATION
Boise State at Colorado State
Saturday, Nov. 11
Colorado State Stadium, Fort Collins, Colorado
Kickoff: 8:30 p.m.
ON TV
The game will be televised on CBS Sports Network, which can be found on the following channels:
Cable One: Channel 139 / 1139 (HD)
DirecTV: Channel 221
Dish Network: Channel 158
ON THE RADIO
Fans can listen to the game on the Bronco Radio Network, which can be found online or on the following stations in the Boise area:
KBOI 670 AM in Boise
KTIK 93.1 FM in Boise
KDZY 98.3 FM in McCall
KSNQ 98.3 FM in Twin Falls
For a list of Bronco Radio Network stations outside the Boise area, click here.
BRONCO ROUNDUP GAME DAY
KTVB's Bronco Roundup Game Day show will be live from Colorado State Stadium from 7 - 8 p.m. on KTVB, KTVB.COM, and in the Bronco Roundup app. Join Jay Tust, Will Hall and special guests for a live look at all of the major storylines leading up to kickoff.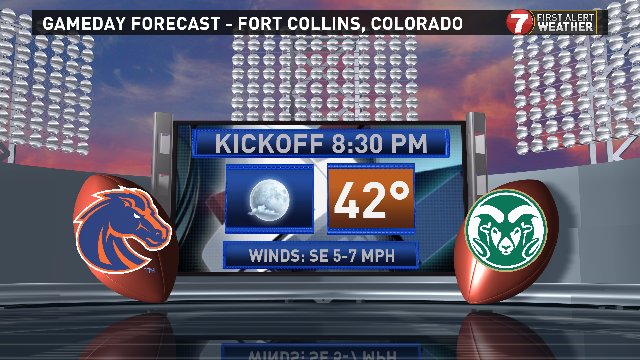 BRONCOS-RAMS SERIES
The Broncos and Rams have played just six times with the Broncos winning each contest between the two teams. The first game came in 2011 (a 63-13 win in Fort Collins), Boise State's first season in the Mountain West. As divisional foes, the teams now face each other every year.
MORE: Scott Slant: Rams trying to shake the albatross
Boise State's all-time record against Colorado State:
Oct. 15, 2016 - W, 28-23 (Boise)
Oct. 10, 2015 - W, 41-10 (Fort Collins)
Sept. 6, 2014 - W, 37-24 (Boise)
Nov. 2, 2013 - W, 42-30 (Fort Collins)
Nov. 17, 2012 - W, 42-14 (Boise)
Oct. 15, 2011 - W, 63-13 (Fort Collins)
The Broncos will don the All-Blue look, with a Stars-and-Stripes touch in honor of Veteran's Day, tomorrow at Colorado State! #BleedBlue pic.twitter.com/d0WIyC1DXz

— Boise State Football (@BroncoSportsFB) November 11, 2017
BRONCOS ROLLING
For two consecutive weeks, Boise State has been on the winning end of 41-14 blowouts. Against Nevada last weekend, the Broncos scored on their first six possessions, getting touchdowns on five.
While the defense has been solid all season long (aside from a hiccup against Virginia), it's the offensive play that truly found its groove in recent weeks. Brett Rypien and company are on a roll, and the junior signal-caller is spreading the ball around more now than we have seen all season long. In fact, 11 different players caught passes for Boise State against the Wolf Pack. Rypien completed 20 of 28 passes for 258 yards and two touchdowns, while Alexander Mattison ran for 64 yards and two TDs on 12 carries.
PHOTOS: Boise State vs. Nevada
Boise State Broncos quarterback Brett Rypien (4) throws a pass against the Nevada Wolf Pack during the first half at Albertsons Stadium. 
Boise State Broncos quarterback Brett Rypien (4) throws a pass against the Nevada Wolf Pack during the first half at Albertsons Stadium. 
While much of the attention this season has been on Boise State's dynamic duo of quarterbacks - Rypien and senior Montell Cozart - one player has been quietly been having a stellar season. Jake Roh's 25-yard touchdown catch just before halftime against the Wolf Pack was his seventh of the season, tying him for the national lead among tight ends. The seven TD catches also equal the most by a Bronco tight end since Jeb Putzier set the school record for the position with 12 in 2001.
On defense, the Broncos intercepted three passes and limited Nevada to just 88 yards of offense in the second half. Just another day for the 15th-ranked defense in the nation, and the best in the Mountain West.
RELATED: In a shocking turn of events, stability ensues in MW power rankings
BOISE STATE'S WINNING WAYS
Saturday's win over Nevada put Boise State into some elite company. Tom Scott explains in Monday's Scott Slant column:
"With the victory comes the clinching of Boise State's 20th consecutive winning season. How rarified is that air? It's a longer current streak than Alabama, Georgia, Ohio State, Wisconsin, Clemson, Oklahoma (need I go on?). Here's the big picture. This is the 50th season of Bronco football as a four-year program, and there have been 44 winning seasons, one .500 campaign (at 5-5-1), and just five losing seasons in all that time. There have also been 22 seasons of 10 wins or more, and that is still in play this year despite the despair so many felt at the end of September. Suddenly thoughts of a 10-win season aren't so outrageous. But there's a lot of football to play, sports fans."
SCOTT SLANT: Broncos know how the fourth quarter counts
GALLUP-ING HORSE
Likely the biggest challenge for Boise State coaches this week is trying to put together a plan to contain Rams receiver Michael Gallup. The senior leads the nation in receiving yards (1,196) and he's the nation's active career leader in receiving yards per game (107).
Coach Mike Bobo told us at Mountain West Media Days what makes Gallup such a special player:
"I call him a horse," Bobo explained. "When he catches a ball, he's like a stallion out there - he's hard to tackle and bring down. He's got strong hands, but his run-after-catch ability is probably as good for a receiver that I've ever had."
Boise State defensive coordinator Andy Avalos is fully aware of the challenge facing his players this week.
"You look at the stat line and it shows, you look at the film and it shows even more - we are definitely going to have our hands full," Avalos said.
CSU'S NEW DIGS
On Aug. 26, Colorado State opened its shiny new stadium. At a cost of $220 million, Colorado State Stadium has a capacity of 41,000 and features state-of-art athletic facilities, a new alumni center, classrooms, and more.