BOISE - The Boise State football team returns to the friendly confines of Albertsons Stadium Saturday for its homecoming game against Colorado State.
The 15th-ranked Broncos are riding a wave of momentum, having demolished the New Mexico Lobos 49-21 on their home turf last week. At 5-0, they are one of only 11 undefeated FBS teams, and are the only team in the country that has not trailed in a game so far this season.
Meanwhile, Colorado State (3-3, 1-1) is fighting to remain relevant in the Mountain Division title race. After a blowout loss to Wyoming the week before, the Rams took a big step in the right direction by knocking off Utah State 31-24 on Saturday.
CSU will face a difficult task this Saturday as they attempt to do something they have never done before - beat Boise State.
At their respective press conferences this week, Boise State coach Bryan Harsin and Colorado State coach Mike Bobo talked of the challenges they'll face on the field this Saturday.
"They've got weapons all across the board," Bobo said of the Broncos. "They kind of pick their poison of how they want to attack you because of the receivers, because of the tight ends, because of (running back Jeremy McNichols), and that's where they're so dangerous."
"(Colorado State) is improved from last season," Harsin said. "They're tougher, they play physical, they play four quarters (and) it showed against Utah State."
GAME INFORMATION
Colorado State at Boise State
Saturday, Oct. 15
8:15 p.m. MT
Albertsons Stadium, Boise
ON TV
The game will be televised on ESPN2, which can be found on the following channels:
Cable One: Channel 134 / 1134 (HD)
DirecTV: Channel 209
Dish Network: Channel 144
ON THE RADIO
In the Boise area, you can listen to the game on the Bronco Radio Network, which can be found on the following stations:
For a list of Bronco Radio Network stations outside the Boise area, click here.
BRONCO ROUNDUP GAME DAY
KTVB's Bronco Roundup Game Day show will be live from Albertsons Stadium before the game from 7 to 8 p.m. on Idaho's Own 24/7 (Cable channel 13, digital channel 7.2), KTVB.COM, and in the Bronco Roundup app. Join Jay Tust and Will Hall on the Blue for a preview of the Broncos' homecoming game.
TICKET GIVEAWAY
KTVB is celebrating 10 years as the official station for Bronco Nation by giving away tickets to every home game this season!
This week, you'll have two opportunities to win:
Download the Bronco Roundup app, and tap "Win Tickets." Be sure to enter before 5 p.m. on Oct. 12. If you already have the Bronco Roundup app, make sure you enter through the app to be eligible.
Be a part of Bronco Game Day live at the new BSU Alumni and Friends Center. Enjoy a family-friendly tailgate party and get the chance to win tickets to this week's game.
BRONCOS-RAMS SERIES
The Broncos and Rams have played five times, with the team from Boise winning all five contests. In fact, most of the games have been blowouts. Boise State's largest margin of victory - 63-13 - was the first meeting between the teams, in 2011. The closest game was a 42-30 Broncos win in Fort Collins back in 2013.
2011 - 63-13 BSU
2012 - 42-14 BSU
2013 - 42-30 BSU
2014 - 37-24 BSU
2015 - 41-10 BSU
ABOUT LAST WEEK
After a heartbreaking loss to the Lobos at home last season, the Broncos got payback in a nationally televised matchup in Albuquerque Friday night. Brett Rypien overcame a somewhat lackluster showing the week before, throwing for five touchdown passes and 391 yards passing.
The performance earned Rypien his first-ever Mountain West Offensive Player of the Week honors, the third consecutive week that a Boise State player has won the award. The sophomore was also named the Manning Award Star of the Week for his efforts on Friday. He currently ranks first in the conference for passing efficiency (157.2), passing touchdowns (11) and passing yards per game (283).
Brett Rypien had a 251.2 QB efficient rating vs #NewMexico, the highest by a #BoiseState QB in almost 14 years (10/18/02, Dinwiddie, 316.4). pic.twitter.com/Ns49CiNAPU

— Jay Tust (@KTVBSportsGuy) October 10, 2016
RELATED: Scott Slant: Rypien's rebound—he got the knack back
Rypien's favorite targets also put on quite a show. Cedrick Wilson hauled in nine catches for 167 yards and three touchdowns, while Thomas Sperbeck had nine catches for 198 yards and two scores.
Boise State's defense took on a bend, don't break philosophy against the Lobos triple option attack, allowing 382 rushing yards. But New Mexico was just 4 of 15 for 39 yards through the air, and were held to a single-digit score until midway through the fourth quarter. With a final score of 49-21, the Broncos are now the only team in the country that has not trailed in a game so far this season.
Even against a triple option team, #BoiseState had 3.0 sacks. They're T2nd in the FBS averaging 4.0 sacks per game this season. pic.twitter.com/CSet00Hcgn

— Jay Tust (@KTVBSportsGuy) October 9, 2016
Colorado State, meanwhile, overcame a two-touchdown deficit at halftime to win an emotional game against Utah State in Fort Collins on Saturday. The Rams were coming off a blowout loss to Wyoming in the annual Border War game the week before, so a homecoming victory against the rival Aggies likely did a lot to give the team hope for the rest of the conference lineup.
Down 24-10 to start the third quarter, the Rams scored three unanswered touchdowns to rally to a 31-24 victory over Utah State. Quarterback Collin Hill was 14-of-25 for 203 yards and two touchdowns before going down with a season-ending ACL tear in the third quarter.
"It was non-contact, he was just planting off his left foot and (his knee) buckled," coach Mike Bobo said in a Monday press conference. "Tough thing for Collin, tough for our football team."
His replacement, junior Nick Stevens, led the team to victory, although most of the yards and final two scores came on the ground. Running back Dalyn Dawkins had 14 carries for 125 yards, including a 56-yarder, while Izzy Matthews carried the rock 23 times for 73 yards and two touchdowns. Offensively, the Rams showed balance gaining 224 yards on the ground and 240 through the air.
Utah State vs. Colorado State
October 8, 2016: Colorado State RB Izzy Matthews (C) is stopped for a short gain during a game between Utah State Aggies and Colorado State Rams at Sonny Lubick Field at Hughes Stadium in Fort Collins. Colorado.
October 8, 2016: Colorado State RB Izzy Matthews (C) is stopped for a short gain during a game between Utah State Aggies and Colorado State Rams at Sonny Lubick Field at Hughes Stadium in Fort Collins. Colorado.
On defense, the Rams gave up 251 yards rushing, including two touchdowns by Utah State quarterback Kent Myers. But most of those yards came during the first half. At halftime, CSU defensive coordinator Marty English took the reins off his team and "basically told us at halftime, 'Just go play. Just go have fun,'" senior cornerback Tyree Simmons told the Coloradoan. The difference was apparent, with the defense making some big plays in the second half.
Linebacker Kevin Davis earned Mountain West Defensive Player of the Week honors after recording seven tackles, an interception and a fumble recovery. Davis, who leads the team with 58 tackles on the season, had seven stops against the Aggies.
"All three levels they've got players," said Boise State co-offensive coordinator Zak Hill. "They've been a physical team too through the year, and that's shown up on film, so we've got to be ready to be physical right back."
POLL POSITION
Boise State continued its upward climb in the polls this week, jumping four spots from No. 19 to No. 15 in both the AP Top 25 and Amway Coaches Poll. It's the team's highest ranking in almost five years.
The Broncos are currently the second highest ranked team in the Group of 5. Houston (5-1) dropped to No. 13 in the AP and to No. 12 in the coaches poll after a loss to Navy last weekend. With the Midshipmen now in control of the American Athletic Conference, the Cougars will likely need at least two Navy losses if they hope to win the conference.
In order to be eligible for a New Year's Six bowl game, a Group of 5 team is required to win their conference. On Sunday, ESPN released their updated poll projections, which show Boise State playing in the Cotton Bowl against either Tennessee or Baylor.
Pretty crazy. In the last 3 weeks #BoiseState goes from unranked, to No. 24, to No. 19, to No. 15. That's a pretty big jump for a G5 team.

— Jay Tust (@KTVBSportsGuy) October 10, 2016
ORANGE OUT
Fans attending the homecoming game are being asked to "Orange Out" Albertsons Stadium on Saturday night.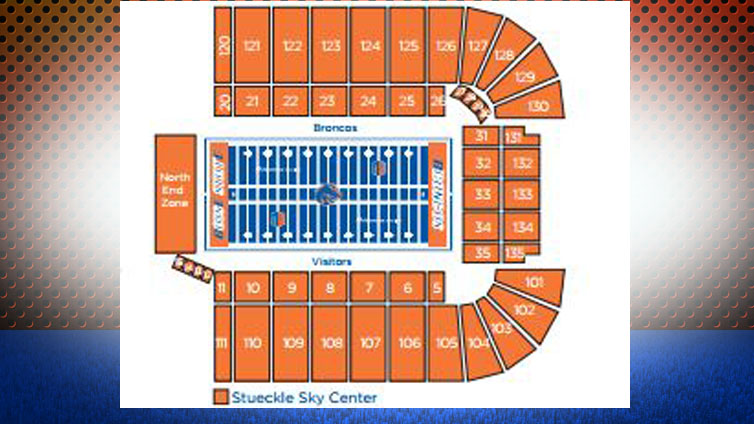 For more information, see the 2016 color scheme schedule.
THROWBACK UNIFORMS
The 2016 Broncos will pay tribute to the 2006 team that won the Fiesta Bowl by replicating that team's uniform look, complete with the throwback logo on helmets.
Celebrating the 10th Anniversary of our 2007 Fiesta Bowl team calls for the Fiesta look this Sat. vs. Colorado State! pic.twitter.com/uzwiT77Okv

— Boise State Football (@BroncoSportsFB) October 11, 2016
Because the Broncos are wearing white away jerseys, the Rams will wear their solid green home jerseys.
STATEHOUSE REPS BRONCOS
The Idaho State Capitol will be drenched in blue and orange lights between 7-10 p.m. on Friday in honor of Boise State's annual homecoming celebration. According to the university, it's the first time in the Statehouse's 104-year history that the building has been lit in Boise State's colors.
HOMECOMING & RETURN OF FIESTA BOWL CHAMPS
Boise State has a full week of festivities planned for its homecoming celebration. Events include special alumni recognition ceremonies, the always-popular Homecoming Parade, and recognition of the winning 2007 Fiesta Bowl team.
Coach Bryan Harsin, who was the offensive coordinator for that Fiesta Bowl team, said on Tuesday that the key to the win was near-perfect execution when it really mattered.
"That team in particular was really special because a lot of what happened in that game in the moments that they just stepped up when they had to in order for us to win."
Some of the players from that team are expected visit practice this week and talk with the current players.
"If you're talking tradition, you're acknowledging those that came before you and inspiring those that will follow you, and that's exactly what this game is all about," Harsin said.
As we honor our 2007 @Fiesta_Bowl Champion team at Saturday's game vs CSU, former RB Ian Johnson has a special proposal for Bronco fans... pic.twitter.com/Pe1XGF41SG

— Boise State Football (@BroncoSportsFB) October 10, 2016
Fans planning to attend the homecoming game might want head down to campus early that day. The men's basketball team will be hosting an open scrimmage as part of the homecoming festivities.
For full list of homecoming events and activities, click here.
BRONCO WALK
Here's a chance for you to high-five your favorite players and coaches as they walk to the football center for pre-game preparations. The "Bronco Walk" will start when the team leaves the Student Union Building about two and half hours before kickoff (about 5:45 p.m.). The team will walk from the Student Union Building, down University Drive, past the Varsity Center, straight into the east stadium parking lot and ending at the Bleymaier Football Center.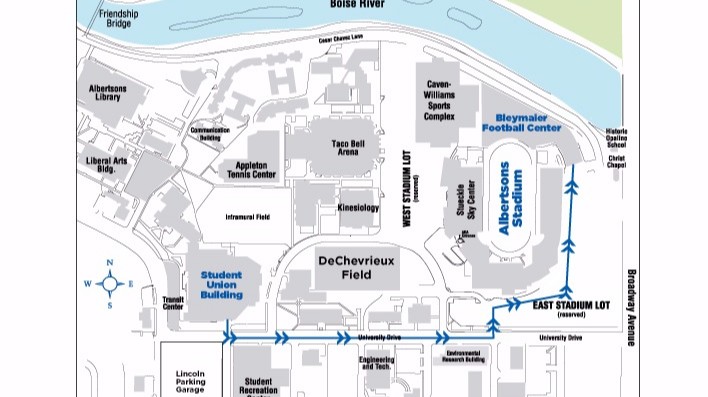 10 TO 10 ZONE
The 10 to 10 Zone remains in place for home games this season. It specifies areas off-campus where people age 21 or older may consume alcoholic beverages from 10 a.m. to 10 p.m. on Boise State University home football game days only. Alcoholic beverages are allowed in clear plastic cups within the zone. Glass containers, beer cans, and type of liquor bottle and cups with alcoholic labeling are not allowed.
The "Zone" begins at Broadway Ave and Myrtle St., extends south down Broadway to Beacon, turns west along Beacon, north up Oakland Avenue, west on Potter Drive, north again up South Joyce Street, and then west along University Drive all the way to Capitol Boulevard. The boundary extends north along Capitol and turns east onto Cesar Chavez Lane, crosses Friendship Bridge north, and leads into Julia Davis Park. In the park, the "10 to 10 Zone" boundary is the area east of Zoo Boise to Broadway Street. and any area south of Julia Davis Pond.
ENTRY TO THE GAME
Bronco fans should arrive early. Those whose seats are not in the Stueckle Sky Center may enter the stadium through any gate. Fans are encouraged — but not required — to leave their bags at home or in the car. For faster entry into the stadium, bring a clear bag or no bag to the game.
Prior to entry, fans will pass through metal detectors, and any bags carried in will be subject to search. Remember to leave prohibited items behind, including all weapons, alcohol, glass and coolers. Find a full list here.
TRAFFIC, PARKING & FREE SHUTTLES
Expect increased traffic before and after the game. University Drive, from Capitol Boulevard to Broadway Avenue, will be congested from 4-8:30 p.m. Euclid and Grant Avenues, between Belmont Street and University Drive will be closed for security operations beginning at 11:59 p.m. on Sept. 9 and will remain closed until the end of the game.
In addition, University Drive between Denver Avenue and Grant Avenue will be reserved for authorized vendor access and will be closed beginning at 11:59 p.m. on Sept. 9. It will remain closed until the end of the game.
LOTS AND GARAGES ON CAMPUS
The Albertsons Stadium parking lot will open eight hours prior to game time. Boise State's bike corral will be available starting at 5:15 p.m. near Christ Chapel on the corner of Broadway Avenue and Cesar Chavez Lane.
Parking will open for the public and Bronco Athletic Association permit holders beginning at noon. Spaces will be available for a $10 fee in the following lots and garages:
Plaza East and West lots
Brady Street Garage and Lincoln Avenue Garage
Vehicles parked in accessible spaces must display an ADA license plate or placard and the placard/license plate registrant must be an occupant in the vehicle in order to purchase game day accessible parking. All accessible parking is on a first-come, first-served basis. There are no in-and-out privileges; any vacated spaces will be resold.
OFF-CAMPUS PARKING
The Downtown Boise Association coordinates free shuttle buses from five convenient downtown locations to Bronco Stadium. These shuttles run every 15 minutes starting two hours prior to game time, and immediately after the game for one hour.
8th between Idaho and Bannock
8th and Main
11th and Main
6th and Grove
8th and Broad
More information on the Bronco Shuttle can be found here.
The URS Parking Garage at 720 Park Blvd. opens at 6:15 p.m. The cost is $5 and includes free shuttle service to and from the game beginning at 6:30 p.m.
Event parking for all Boise State home football games this season will be available at the Civic Plaza complex just east of the Ada County Courthouse for $5 per vehicle. All proceeds will go towards providing essential programs and educational services for victims of child abuse, elder abuse, domestic violence, and sexual assault at the FACES of Hope Victim Center.