A Hollister woman was sentenced on Friday for hitting and killing 34-year-old Ryan Franklin while he was riding his bike on May 18, 2016. Franklin was a Twin Falls firefighter.
Hollie Winnett was charged with vehicular manslaughter and leaving the scene of a crash.
In January, Winnett pleaded guilty to amended charges and now faces one felony and one misdemeanor. On Friday, Judge Randy Stoker handed down a sentencing of 90 days in jail and up to seven years of probation.
KTVB spoke to Franklin's wife, Amie, after the sentencing. She says each day is a struggle for her and her kids, but she is praying that she can forgive Winnett.
MORE: Family remembers firefighter: 'He loved so deeply'
"There's just no justice in a death case like this, nothing can bring my husband back," Amie said.
On the morning of May 18, 2016, Ryan Franklin went on his usual bike ride, when he was struck by an SUV driven by Winnett, who told police she fell asleep behind the wheel and woke up when she hit something.
MORE: Idaho firefighter killed while cycling
Winnett admitted she panicked and left the scene.
"My husband and best friend and loving father of my kids died face down on the side of the road completely abandoned and alone. No one got to say goodbye to him, no one got to hold his hand as he entered into the presence of the Lord," Amie Franklin told said in a victim impact statement in court on Friday. "I miss my best friend. My kids miss their daddy. We face a life ahead of us that still looks boring and scary without him."
Four young children are now left without a father, parents without a son, and a wife without her husband.
Franklin's mother and father also gave victim impact statements in court on Friday. They all sat next to Winnett, with both Amie and Ryan's mother addressing her directly.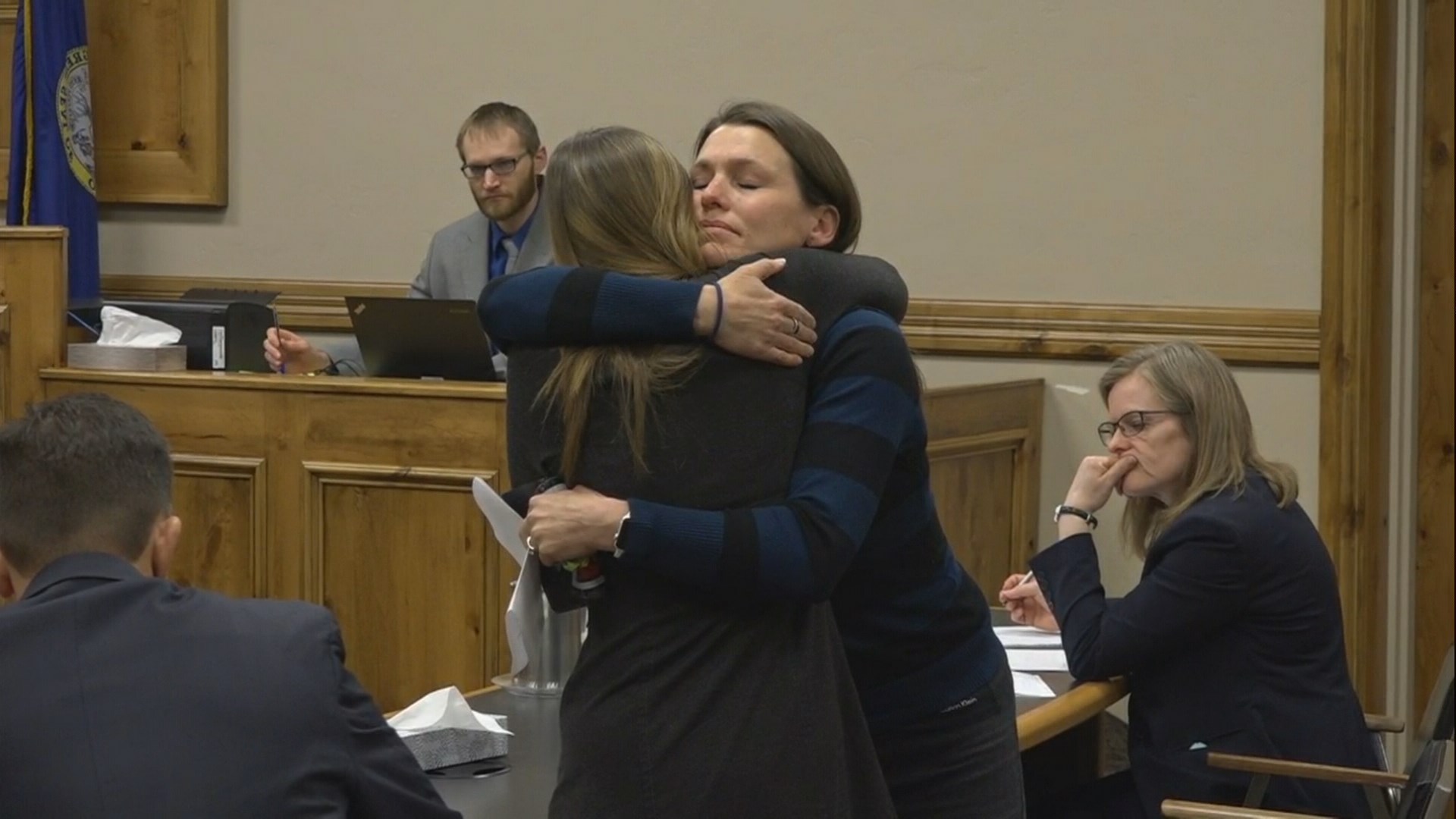 "It's hard to express how our lives changed on May 18. I'll never forget the call that came with Amie telling us Ryan was killed this morning," Franklin's mother said in her statement, "The pain as a mother is indescribable."
Winnett and her attorney, Brad Calbo, addressed the court.
"We concede upfront here today that nothing we can do, nothing we can say, no sentiment we attempt to express or put into words will adequately capture or appropriately address the loss and the pain and the suffering of the Franklin family and friends," Calbo told the court.
MORE: Driver in fatal crash says she fell asleep at the wheel
"I don't know how to express how sorry I am... for this... and I can't change it," Winnett said.
Winnett will not report to jail until March 31. She will be placed on work release while serving her time so she is able to make money to pay Amie Franklin court-ordered child support.
Judge Stoker will be suspending Winnett's driving privileges for a year following her release. If she violates her probation after serving jail time, Winnett could end up going to prison.
"I have compassion for her," Amie told KTVB. "I don't desire to see her in agony."
Ryan Franklin leaves behind a legacy, and in his passing, a grave reminder to drivers to pay attention and not drive distracted or tired.
Winnett was also ordered to complete community service where she will create public service announcements about her experience and the dangers of inattentive, distracted or tired driving.
"I want something that will protect other cyclists," Amie said. "When you hear that from her it really makes you take into account, I need to be cautious because it could be me."
Amie says she is ready to move on past court proceedings.
"It's just another hurdle we have to get over to close the door on the tragedy and just kind of start to celebrate his life and not so much the horror of what happened to him," she added.
Judge Stoker feels Winnett has a great level of remorse for what she did, but knows there has to be a serious consequence to deter anyone else from doing committing an act like this.