We all love our pets whether it's a dog or another furry friend.
But two incidents in the span of less than a week, has left one dog dead and another missing.
Both cases involved a dog not being on a leash or the owner not holding the leash in a Boise park where they should be.
And according to the Idaho Humane Society this is the time where there is a spike in these types of situations.
Friday, a large malamute mixed dog mauled and killed a miniature Yorkie at Quinns Pond in a leash designated area at Esther Simplot Park.
"The smaller dog was on a leash and the larger dog was not leashed," says Parks Director Doug Holloway.
Since the incident, Boise Parks and Recreation has increased signage that details where dogs can be on or off leash in Esther Simplot Park.
All leash designated areas can also be found on the agency's website.
Holloway says animal control will also increase policing for violent and off leash dogs.
"We have asked them to step up the patrol at Esther Simplot and at Quinns Pond, and Ann Morrison as well where we are seeing a lot of off leash dogs," says Holloway.
Another incident happened Monday when Taylor Montes was walking her foster dog Kira and her miniature pincer Brutus on the Greenbelt at Ann Morrison Park.
"As we passed the playground there was a bench and a woman was sitting there with two children and a deerhound looking dog," says Montes.
Montes says the woman had her dog on a leash but wasn't holding onto it.
"Just because your dog is on leash, if it's uncontrollable or overly aggressive that could also result in a citation as well," says Holloway.
"As we walked by we kept our dogs on the other side of the Greenbelt on the marked lines and her dog lunged and growled at ours. I intervened between Brutus and the other dog and Kira twisted her head out of the two leashes that she had on," says Montes.
Kira, part Labrador, jumped into the fast-flowing river.
Luckily, she was able to swim to shore.
"We met with the fire department and saw a dog running down river street and then the woman that was on the bike said she saw her get out of the river, shake and keep going," says Montes.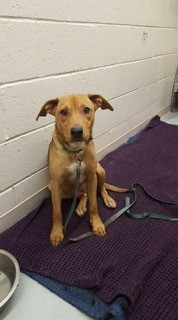 Kira is still missing.
Montes says she is timid and won't respond to her name when called.
If you see Kira, Montes asks that you call animal control.
"I think this would not have happened if she was properly holding the dog, I think we would have walked by and this never would have happened," says Montes.
Click here for Boise Parks and Recreation's leash rules.