If all the election season talk is stressing you out maybe you can cool down with a little campaign coloring.
A Twin Falls brother and sister team have created an adult-themed book called "Make Coloring Great Again."
It is pop culture meets politics, taking jabs at many different people involved with the presidential race.
The creators say it's a fun and sarcastic way to illustrate what's happening in America and to get more people to pay attention.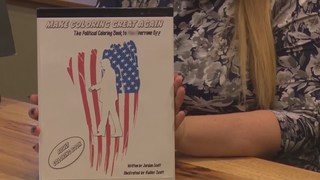 "So, that kind of what this book is for. It's funny, it's entertaining, but, it makes you look at the issue and go, 'Oh yeah!'" said illustrator and designer Hailey Scott. "The pop culture reference makes it more entertaining, so you connect the references together."
You can get a copy of it right now on Amazon.
There's already a sequel in the works for after the election.