KETCHUM - As rivers throughout southwest and central Idaho continue to spill over their banks, conditions in the Wood River Valley are rapidly becoming more dangerous.
The National Weather Service blames the overwhelming river flows on warmer temperatures in recent days causing snow to melt at high elevations.
Flooding has been reported on a number of rivers, including the Boise River in Garden City and the Pine-Featherville area, the Payette River near Emmett, and the Big Wood River in Blaine County.
According to Blaine County Sheriff's Office, the spring runoff is coming in more rapidly than expected, resulting in what they're calling potentially record-setting flooding. The office is updating flood information and offering tips for staying safe on its Facebook page. Residents can also sign up for emergency alerts, view flood maps and more on the county's website.
Lt. Gov. Brad Little, who's acting as governor while Gov. C.L. "Butch" Otter is out of the state, declared a state of emergency in the county on Sunday, which will clear the way for state resources to be used to help.
Voluntary evacuations have been issued for the Warm Springs area in Ketchum, where crews had to rescue a family from rising flood waters on Saturday. The Big Wood River was in the "major flooding" stage earlier on Sunday. And smaller creeks have become large rivers.
"Warm Springs Creek came up significantly the last two days, and many of the houses out here are now islands," said Ketchum Fire Chief Mike Elle.
So far, 30 homes in the area have voluntarily evacuated.
Warm Springs Road is closed to through traffic and travel beyond the pavement is extremely dangerous, officials said.
Several homes along the road surrounded by water. One resident told her she hasn't seen flooding like this in the 40 years she has lived there.
"It makes it sad for the people who are losing so much," said Margaret Mcdonald Stewart. "It's scary because you don't know where the water is covering the road here. The road could be completely washed out underneath there and you don't know it until you drive through. That's scary... for anybody that has little kids."
Even the world-famous Sun Valley Resort is not immune to the encroaching water. Workers surrounded the Warm Springs Lodge with sandbags in an effort to protect the building.
Flooding in Ketchum
Flooding is widespread in the Ketchum area, with flood waters encroaching on homes and the Sun Valley Resort.
Flooding is widespread in the Ketchum area, with flood waters encroaching on homes and the Sun Valley Resort.
Major flooding is also being reported in multiple other spots along the Big Wood River.
Hailey Fire Chief Craig Aberbach took KTVB's Kim Fields on a tour of the flooded areas Sunday afternoon. Flood waters are covering roads through neighborhoods, and in some cases the water is reaching homes. Residents were putting out sandbags in an attempt to keep the flooding at bay.
Aberbach said the first calls for flooding came in around 2:30 a.m. Saturday.
"From there it just took off," he said, adding that warmer temperatures are a major cause of the flooding. "When I went out Saturday morning at about 2:30, the temperature was around 48 degrees. That, compiled with heavy rain led to extra-heavy river flow which created this. Now a lot of this [flooding] is just ground water coming up."
Aberbach said fortunately no injuries have been reported. He added that the Red Cross is preparing shelters for displaced residents in case they're needed.
Flooding in Hailey
Flooding on the Big Wood River
Flooding on the Big Wood River
Idaho Power has also cut power to some homes and businesses in the area as a safety precaution. Officials warn more outages may be necessary as they continue to monitor the situation.
Elsewhere, the Pine-Featherville area is also getting hit hard by flood waters. We received reports of people evacuating cabins along the South Fork of the Boise River.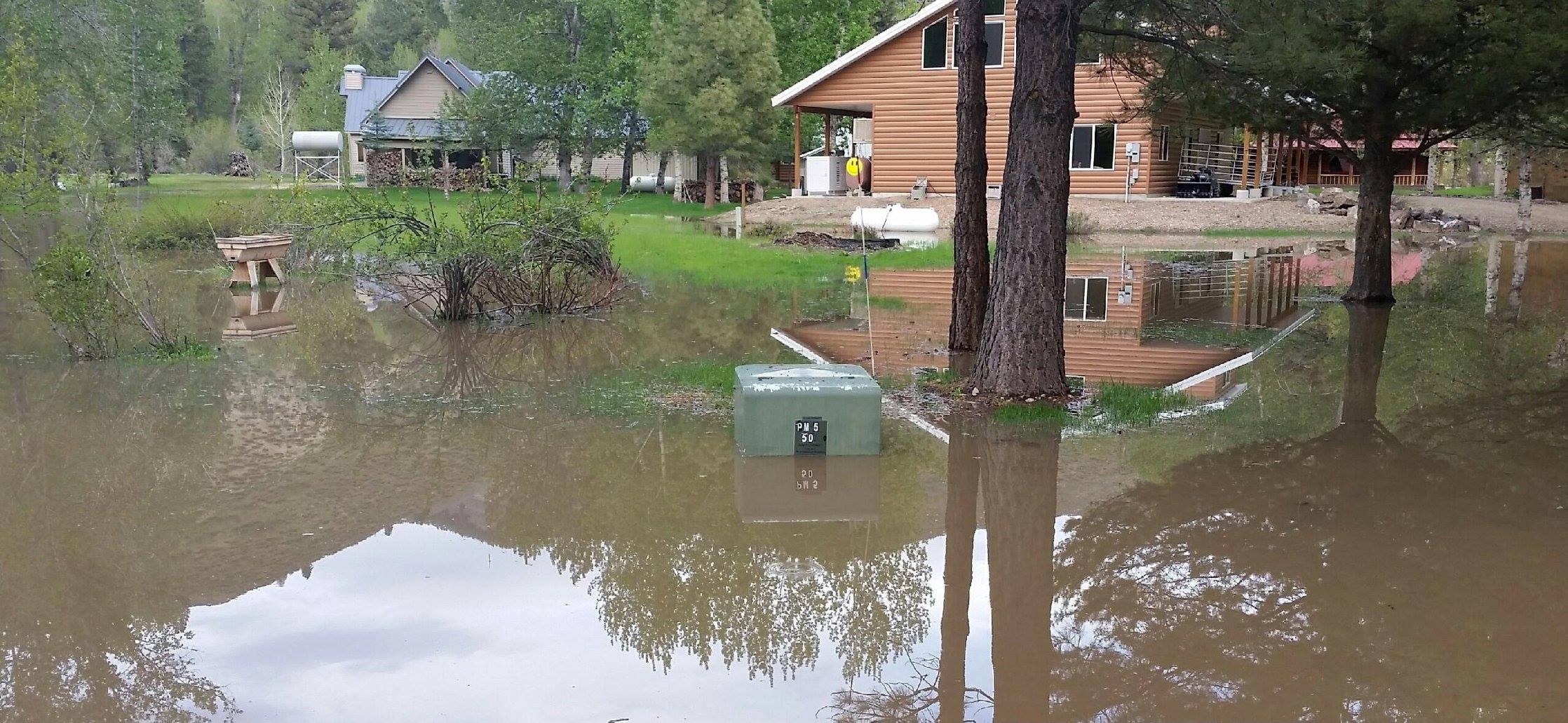 The National Weather Service also noted that the Payette River in Emmett reached flood stage on Sunday morning. Minor flooding is expected through Monday morning in the Montour area. Officials said anyone living along the river should closely monitor the situation.
Meanwhile in Garden City, a toppled tree continues to cause the Boise River to back up from 46th to 48th streets near Adams Street. The area is mostly filled with businesses, warehouses and trailer homes. Residents spent Saturday putting out sandbags. On Sunday, Garden City police said the situation is improving, but emergency workers are continuing to keep an eye on it.
MORE: Downed tree continues to cause major flooding in Garden City
The Red Cross is currently working to set up shelters for displaced residents in case they are needed. People can sign up for emergency alerts, view flood maps and more on the county's website.
KTVB has crews in Blaine County and in the Pine-Featherville area and will continue to update this story as more information becomes available.