BOISE NATIONAL FOREST -- This fresh snow is getting many Idahoans excited about those winter activities we love so much, and this weekend looks like a great time to head up to the mountains.
But there are some things you need to know if you're planning on going where the Pioneer Fire burned.
With more snow in the forecast, Idaho City District Ranger Brant Peterson is warning folks to be extremely cautious when out recreating in the area - mainly because of burned trees. Snow could pile up and because the trees are weaker, they could easily break and topple over, hitting the road, hitting your car, or hitting you.
"Recreating in the winter - and especially post-fire - means that there's other hazards that exist," Petersen said.
Boise National Forest has reduced those hazards, but says by no means have they eliminated them- especially when it comes to fallen trees.
"They could fall on a route that you came in on, and coming back out could be much more challenging," Petersen added.
Most of the 200,000 acres burned by the Pioneer Fire are cleaned up and ready, but crews are warning visitors to be careful.
Petersen wants people to know that if they are heading to a remote place in the winter - especially a spot torched by the blaze - to make sure friends and family know where they are, what routes they took, and that people are extra prepared with the right gear.
"Once you've removed the vegetation, the trees and brush off slopes, you can get more snow slides. If there's a rain on snow event, you can get debris flows, rock flows, and things like that," Petersen told KTVB.
To lessen the likelihood that those events happen, some closures are still in place in the Pioneer Fire perimeter, but forest officials say those will be lifted soon.
This map shows the two big area closures: one is east of Highway 21, and the other is south of 312 Road: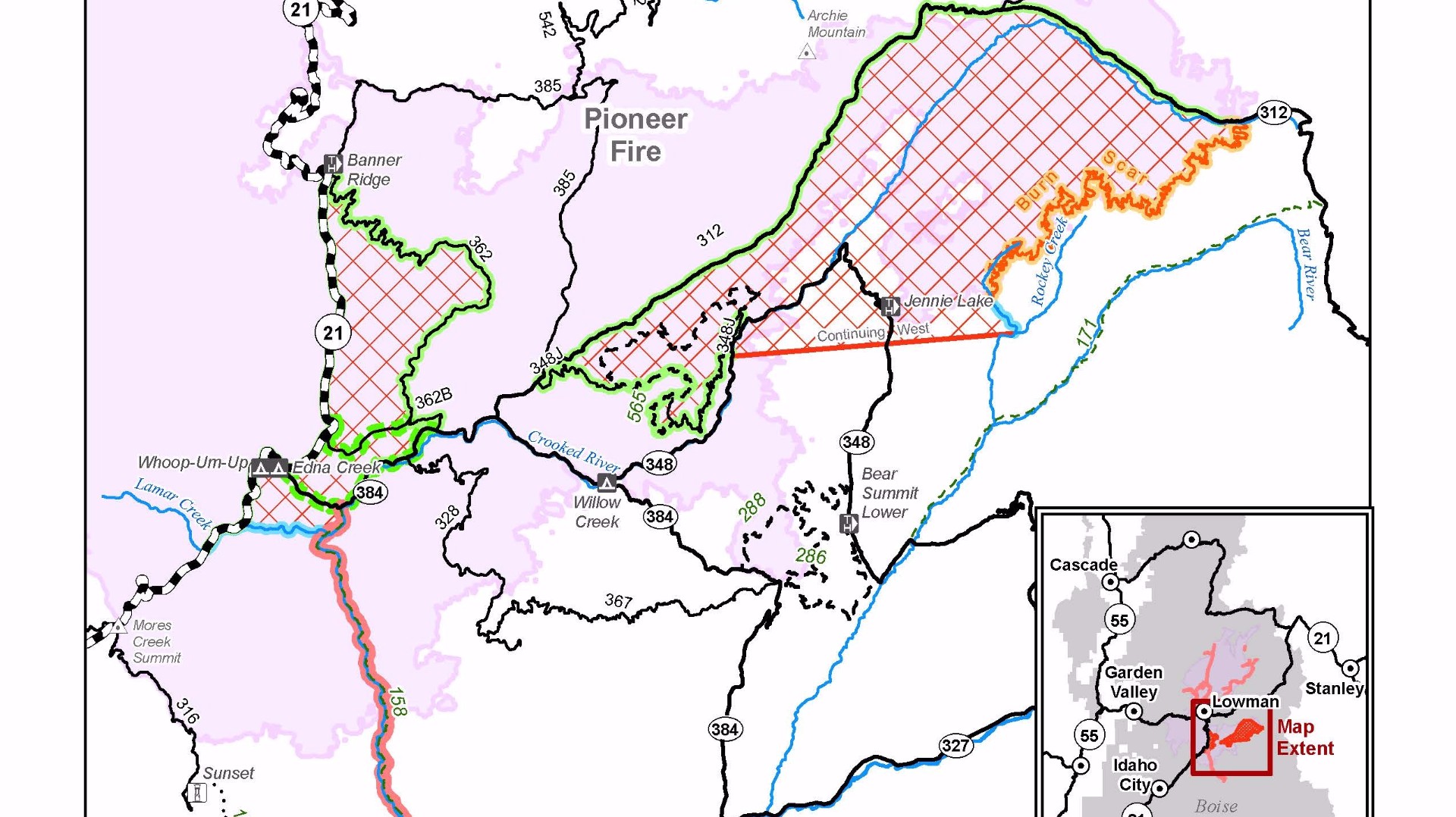 Some trails are still closed, but the Boise National Forest is working to open up the main arterial trails for snowmobiling, cross-country skiing, and snow-shoeing.
"We have routes opened up out of Mores Creek Summit parking lot and we have some routes opened up out of Whoop-Um-Up," Petersen added.
Idaho Parks and Recreation opened up the Stargaze and Banner Ridge Backcountry yurts and two winter recreation areas around them.
In its path, Peterson says the fire made way for new perspectives.
"It's changed a lot," he told KTVB. "You can see some incredible sights up there that you didn't know existed because of the trees. So there's a few advantages for the fire."
Parts of Road 380 are closed while loggers work to cut trees down. For a closer look at trail closures and routes, head to the Boise National Forest Alerts & Notices page.