BOISE - Just weeks after hitting historic highs, Boise River flows will continue to drop this week. But they are still stronger that normal for this time of year.
The U.S. Army Corps of Engineers will decrease the flow to about 3,200 cubic feet per second by Friday. As of Wednesday afternoon, the river is flowing at 4,400 cfs at the Glenwood Bridge gauge station.
The river was above the flood stage mark of 7,000 cfs for about three months this spring, peaking at 9,500 cfs back in May. It was just the second time since 1955 that the Boise River levels have reached 9,500 cfs. The first time it happened was back in 1983.
Water managers have been able to reduce flows on the river in recent weeks thanks to lower amounts of snowmelt flowing into the three already-full reservoirs that feed the Boise River system. As of Tuesday, Lucky Peak Reservoir was 97 percent full, Arrowrock Reservoir was 96 percent full, and Anderson Ranch Reservoir was 99 percent full.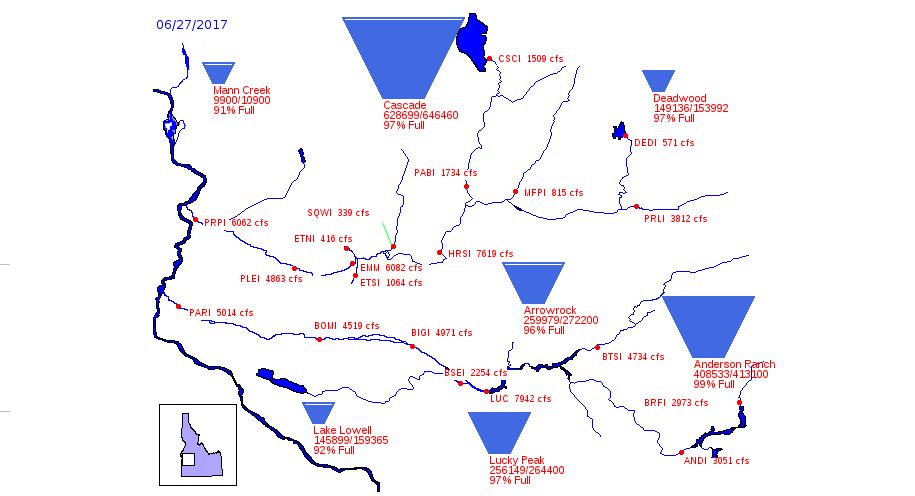 Despite the dropping levels, officials warn that river is still dangerous, and people are being told to stay out of the water. The river will need to get down to 1,500 cfs before it's opened up for floating season.
As the river recedes, the Boise Parks and Recreation Department announced on Wednesday that most of the Boise River Greenbelt was reopening. The popular pathway was closed for months because of flooding from the river.