OEUR D'ALENE, Idaho – Another post in the Couer d'Alene Swap 'N Shop Facebook page alleging a horrific crime has people outraged online.
Multiple people reached out to KREM 2 expressing concern regarding a post from a man claiming to want pitbulls for a dog fighting league. The post said the man needed two bait dogs and at least two "fighters." He offered up to $500 for each dog.
"I'm looking to buy a few pitbulls. Does anybody have any they wanna sell or get rid of?" the post reads. "It's for a chomper league. I need 2 bait and at least 2 fighters. Thanks in advance. I can pay 500 each."
Almost immediately, people began commenting and sharing the post with local police departments. Most people reeled at the thought of such blatant cruelty, while others said it was a joke. Within a few hours, the man who posted the ad commented that he was just kidding and that he was actually looking for hunting dogs, not fighting dogs.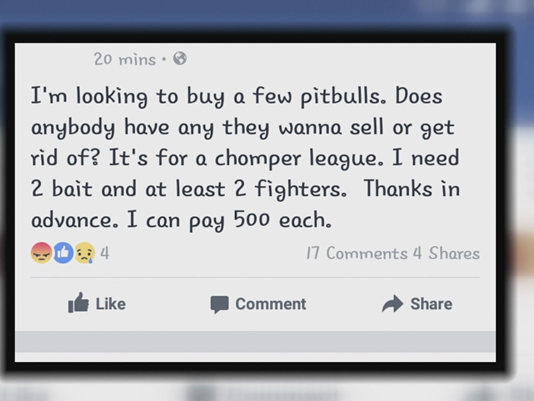 This is not the first time a post in the Facebook group has caused an uproar. Earlier this week, a post advertised an 18-year-old girl for sale.
People asked 2 On Your Side what can be done about Facebook posts that seem to promote illegal activity.
KREM 2 reached out to the Coeur d'Alene Police Department who said they received at least a half-dozen reports about the pitbull post. Dog fighting is a felony in Idaho, so the case has been forwarded to animal control.
Police said they take any potential threat to life seriously, whether it involves humans or animals. However, they said they cannot investigate every questionable post online, so they have to prioritize.
If police find someone is in imminent danger, they can contact Facebook and get a user's information. Additionally, police encourage people to report any crimes they come across online.
KREM 2 plans to follow up on with Coeur d'Alene Animal Control to learn more about any potential investigation.