BOISE – A former Boise State football player was found not guilty Thursday of a felony mayhem charge in connection to a fight in which he bit off a piece of a teammate's ear.
Dereck Boles faced up to 14 years in prison for the incident at a Boise house party early last year.
The former Boise State defensive lineman was accused of biting off a piece of former safety Chancellor James' ear during an altercation at a house party on East Raintree Drive in February 2016.
A parade of current and former players – including quarterback Brett Rypien, linebacker Ben Weaver, tight end Jake Roh, wide receiver A.J. Richardson, defensive end Sam McCaskill, wide receiver Chaz Anderson, and safety Dylan Sumner-Gardner – testified at the trial.
The fight on the night of Feb. 12 stemmed from an altercation at practice the day before.
During closing arguments on Thursday, prosecuting attorney Heather Reilly said Boles bit down on James' ear "with such force that there was blood" on Boles and it tore off part of James' ear.
Both Reilly and defense attorney Joe Miller admitted that James instigated the fight and that Boles bit James' ear, but they disagreed on whether Boles showed "unlawful and malicious intent."
Boles "went toe-to-toe" with James, Reilly said, adding that the defendant "took the bait" when confronted by his teammate. Meanwhile, Miller argued that Boles bit James' ear because he was fearful for his own safety, and that the action was taken in self-defense. He pointed out that James admitted under oath to having taken 8 to 9 shots of liquor that night.
"Just because there was a horrific injury, doesn't mean there was a crime," Miller told the jury, adding that "things are not always what they seem."
RELATED: Former Boise State football player charged in ear-biting incident
According to witnesses, Boles and James got into an argument at the party before being separated by other players. About an hour later, the pair met again in the kitchen of the home. This time the fight became physical.
Prosecutors argued that the players got into a shoving match, and that as other players attempted to pull them apart, Boles tried to gouge James in the eyes, head-butted him, and then bit him.
The defense, meanwhile, claimed that it was James who pulled Boles' head towards his. Miller said that other players held Boles' arms behind his back and that James was attacking him from the front, so his only recourse was to bite James.
Boles, who testified in his defense on Wednesday, said he felt like he was in danger and had no other choice but to bite James.
Witness accounts of the fight varied, in part, attorneys said, because many of those who saw it were under the influence of alcohol at the time.
Rypien, who had not been drinking, drove James to the hospital, where doctors attempted unsuccessfully to reattach the piece of ear.
Boles was later kicked off the team for what the school called a violation of team rules. He was arrested in Florida in May after Ada County prosecutors filed the mayhem charge.
James was suspended for the first game of the 2016 season, his senior year. Now graduated, he is hoping to get drafted by an NFL team.
A member of the 2014 recruiting class, Boles redshirted his first year on campus, and appeared in all 13 games of the 2015 season. In a reserve defensive tackle role, he finished with 11 tackles and four tackles-for-loss. Following his dismissal, he transferred to Coffeyville Community College in Kansas.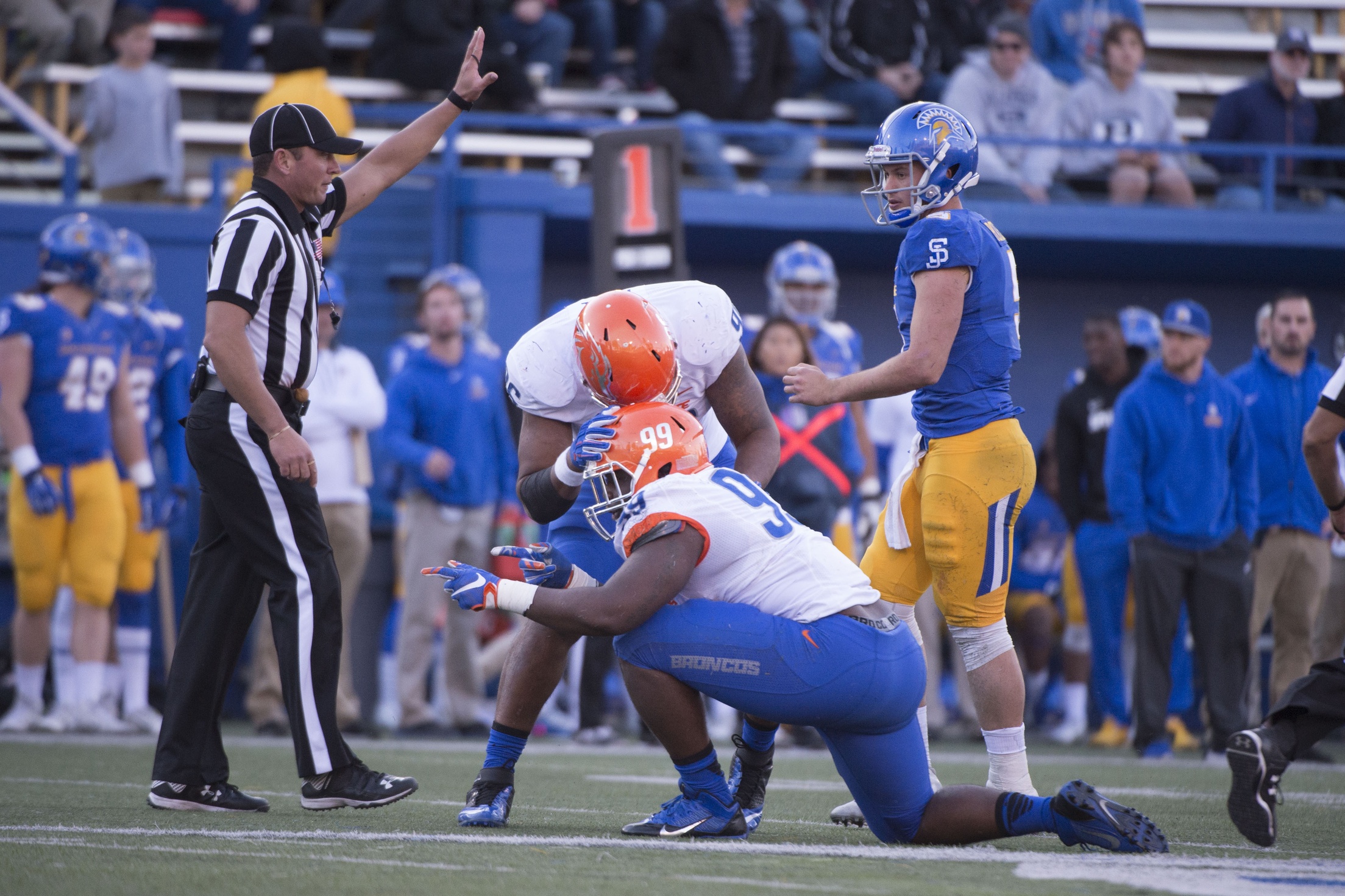 After the jury's not-guilty verdict, Miller said the criminal charges against his client affected Boles deeply.
"It affected him more than anybody will ever know," Miller said. "It's had a tremendous impact. I would say that it's been a living nightmare for the past year for Dereck."