BURNS, Ore. -- Members of the Burns Paiute Tribe had strong words Wednesday for the militia group camping out in a bird sanctuary as a protest against what they consider federal overreach.
"They just need to get the hell out of here," tribal councilman Jarvis Kennedy said.
"We as Harney County residents don't need some clown to come in here and stand up for us," he said.He rejected the assertion from Ammon Bundy and other members of the self-professed "Citizens For Constitutional Freedom" that they had come to eastern Oregon to protect the rights of local ranchers and the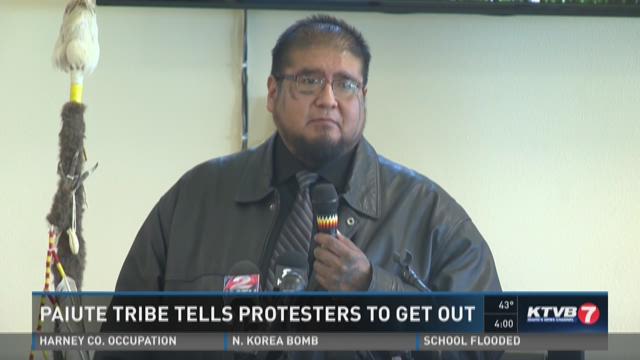 community.
More: Oregon standoff leader: We're prepared to defend ourselves
Bundy and members of his group took over the Malheur National Wildlife Refuge southeast of Burns Saturday following a protest to support a pair of local ranchers headed to prison in an arson case. The armed occupiers have threatened to defend themselves if law enforcement comes to try to force them out.
Schools around Burns have been closed as a precaution since the occupation began.
"We didn't ask them here. We didn't want them here," Kennedy said. "They say they don't want to bother the community, but you know what? Our little kids are sitting at home right now when they should be at school."
Tribal chairwoman Charlotte Roderique agreed, saying armed protesters did not belong at the refuge, which contains sites of cultural significance to the tribe.
"The protesters have no claim to this land; it belongs to the native peoples who continue to live here," she said. "The Malheur refuge is an important place for us. We have no sympathy for those who are trying to take their land from its rightful owners."
Related: Armed group presses for US land transfer; sheriff calls community meeting
Roderique said she saw the occupiers as outsiders who did not understand the community they profess to speak for. Although the group at the sanctuary have called for the government to completely relinquinsh management of public lands, most ranchers in the area accept drought subsidies, grazing subsidies and other money from the federal government, she said.
She added that the group's promise to redistribute that federal land overlooks the Native Americans, the original settlers of the area.
"Don't tell me any of these ranchers came across the Bering Strait and settled here," she said. "We were here first."
Law enforcement has not yet made any attempt to oust the group from the wildlife refuge, although the Harney County Sheriff is holding a community meeting on the situation later Wednesday. The chairwoman suggested authorities simply wait out the occupiers, and let the movement lose steam.
"I don't think anybody expected any takeover at the Malheur National Refuge," she said. "In fact, there's nothing there. It's not a key location... I don't think these people knew what they were getting into when they went down there."